Jamie Stevenson Trophy 2015
The Jamie Stevenson Trophy is an annual inter-club competition for junior orienteers in Scotland.  The competition is open to juniors of all abilities and the courses offered are Yellow, Orange, Light Green and Green.  It's an event based around individual runners (no relays), although it is possible to run as a pair for the less experienced.  All eligible juniors score points, and each club tots up its best six scores.  But along the way, there are lots of trophies for individuals, in all kinds of categories, and the emphasis is on encouragement and enjoyment.
This year's competition was at Kinnoull Hill, Perth, on Sunday 14th June, and ELO was represented by Benji Edmondson (Yellow) and Jonny Harding (Light Green).  Not only is Kinnoull Hill very accessible from most of Scotland (and with a covered ranger/picnic area with loos and electricity!), but it's a fine area of very runnable mixed woodland, with a good path network and lots of contour interest.  It is quite small, however, and there are some serious crags at the southern edge!  These are the ones you see towering above the M90/A90, and it would be hard to keep the longer courses away from them.  Jonny actually took the route along the top of the cliffs between his 5th and 6th controls (see image).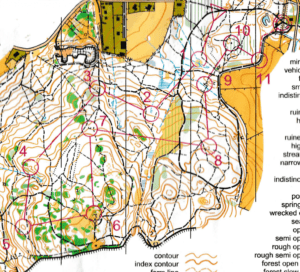 Both of our runners completed their courses with creditable times.  Results are here.  Very sadly, Benji's dibber didn't register his 8th control, and so his run couldn't get any points.  Jonny had trouble with his no. 7, and I notice from Winsplits that no. 7 caused a problem for quite a few people.  I ran Light Green myself afterwards, and I found it quite a tricky course, that mixed easier and harder legs in a way that demanded concentration, and the good path network wasn't always a help — there were several paths between 6 and 7, and you could easily get the wrong one and overshoot, and then it was uphill to go back!  But both boys soon cheered up after a barbecued sausage.
Although with only one qualifying run, ELO came last, at least half a dozen clubs (including some that are closer to Perth than we are) didn't have anyone there, so well done to us for getting even a small team along.  And more importantly still, our runners enjoyed their day, and there really is no substitute for a "big" event like this to learn about the sport.