---
---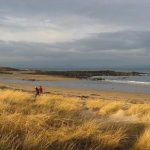 Usual thanks to all the very many who came to run and to the many helpers who made the event possible.
Score events require an extra set of decision making skills and many runners enjoyed this change. Well done to those brave souls who added the challenge of "Odds before Evens".
More than 30 tried the RetrO course. Sample comment – "I'll never complain about SI timing again". Special mention to Fran Humphrey who entered into the spirit by actually bringing a stamped addressed envelope for the results – just like pre-internet days.
Saartje's reduced refreshment stand raised £35 for Mary's Meals.
Organiser's Report
It was great to be able to welcome so many people to Yellowcraig! Hopefully the wait at registration for a few folks was more than made up for by the excellent courses and convivial atmosphere afterwards. Patchy mobile reception meant that live results online weren't possible but hopefully you saw the results screen (and thankfully we didn't have to wait a week for the stamped address envelopes to arrive through the post – even for the retro course).
We look forward to seeing you next month in Butterdean where we will have a little more space for registration and can spread out! September saw experienced Orienteers having their route choice decision making challenged and next month you can have a go at a map memory course where your only chance to see each leg is on the map extract at the controls. 
Planner's Report
Yellowcraig is varied but a very small area so it's hard to fit in a long course without tedious loops. I had thought that adding the wrinkle of "Odds before Evens" on a Score would slow down the finishing times – but many finished comfortably inside the limit even with this extra option. Perhaps for next time an even more arcane restriction is needed …
Results
Read more
---
---
---
---
---
---
---
---
Results Archive:
You can view older results by year: