---
---
---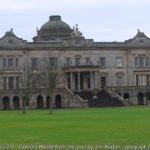 Gosford is a privately-owned estate stretching between the East Lothian villages of Longniddry and Aberlady. The area contains 18th-Century Gosford House and its park in the centre, sections of farmland, and surrounding deciduous woodland. Although the event will stay away from the House itself, the parkland contains many interesting features such as ornamental ponds, ha-has, a mausoleum, a grotto, and an ex-POW camp.
Orienteers of all abilities are welcome to join us on the day when we will have a range of courses to suit everyone including beginners.
Results
Organiser's Report
It is much easier to plan and run an event when you know that the courses are going to be enjoyed and it was clear from the outset that this was likely to be the case. The earlier time of year meant that the daffodils would be out and the nettles wouldn't be a problem. This resulted in lots of smiles as people returned to download after their courses. 
My thanks go to all be those who helped with parking, issuing dibbers, welcoming folks and providing a smooth start and some friendly advice on navigation. 
It was encouraging to hear positive feedback about all four courses and we look forward to seeing you in April when we will be revealing our brand new map of Balgone Estate south of North Berwick which a surprising number of folks from East Lothian have never visited before!
Planner's Report
The club was pleased to provide such splendid weather for you to enjoy this afternoon at Gosford – all planned of course – and the woods and parkland were in equally good shape. I hope the courses matched up to this setting to some degree. Certainly, your feedback at the finish suggested most people enjoyed them.
Gosford is a great area and it has been a privilege to spend time there planning this event, seeing the woods, the lakes, the wildlife in different conditions through the winter, culminating in today's superb spring atmosphere. My thanks are due to the Estate, particularly the Ranger, Stewart Lyle, for his help, and to Michael Atkinson for supporting me with the planning – and for all the rest of the event organisation. Also, thanks to the big team of control collectors – Hanne, Dave, Godfrey, Jamie, Duncan and Thomas – for making it quick and easy clearing up.
Read more
---
---
---
---
---
---
---
Results Archive:
You can view older results by year: