---
---
---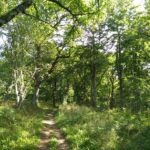 This was our second Saturday event after the easing of the virus restrictions. It was staged using the same methods of meeting the distancing and hygiene requirements as at last month's event – except that this time we were able to include some juniors and their families from other local clubs.
Thanks to everyone who attended and co-operated with the special arrangements. Remember to check for ticks.
Results:
Comments
Organiser's Report
Everyone seemed to be unanimous that it was great to be out in a real tough orienteering forest, despite finding in places that the brambles were more of a hindrance than a tasty snack! The sun shone, the woods looked wonderful and with 50 starters spread over 90 minutes the current troubles seemed far away.
Thank you to Peter Brownsort who originally planned the courses for use in April and had to spend some extra time checking and updating them for autumn use, to Sir Francis Ogilvy and Winton Estate for access to the wood, and to Keith Stuart for the use of the hardstanding for parking. Thanks also to the volunteers: Trina, Robin, Pete Y, Jamie, Duncan, Jeff, Ross, Ian, David, Hanne and Michael.
Planner's Report
As a first-time planner it was very satisfying to sit in the sun at the finish on Saturday and hear from many of you that my courses had actually worked out. Despite the thorns and the scratches, it looked like most of you enjoyed them, at least in some way. So thank you all for coming out, and for the feedback. And my particular thanks to Trina, Robin and Sheila for mentoring me through the planning, mapping and general organising aspects; and to Hanne, David and Ian for collecting and sorting controls on Saturday afternoon.
---
---
---
---
---
---
---
Results Archive:
You can view older results by year: