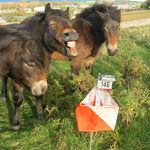 Thanks to all who came and the many helpers on CoVid measures, timing, starts and control collection.
Here are some comments by the course planner, Saartje Drijver:
Judging by the feedback I received at the finish banner, today's event was a success. It was good to see such an even spread across the courses. Some commented on how much more varied the area was than they had appreciated. Most importantly all orienteers are accounted for.

The main learning from my first attempt at planning an event is to see the area from a visitor's point of view rather than from a local perspective. For instance, I really did not expect any Light Green runners to go through the deep marsh when there is a gate that takes you through a dry strip of communal land – sorry about that.

I would welcome entries on Routegadget to learn about the choices people made.
Results:
---
---
---
---
---
---
---
---
---
---
Results Archive:
You can view older results by year: