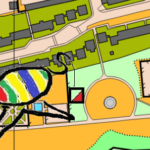 Sprintelopes are lightweight informal events featuring Urban style races around the streets of towns in East Lothian and other areas in and around Edinburgh on Wednesday evenings.
In 2021, ELO are contributing six races to the series, three of which are on brand new maps, including this one in Prestonpans!
Results
Results are available on this website. We are sorry that the first finishers did not feature in the provisional results which were published during the evening All is fixed now, we hope.