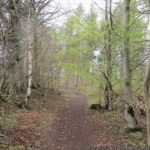 Winton Estate is a relatively new area for orienteering in East Lothian with a strong path network making it ideal for those wanting to try orienteering for the first time.
Orienteers of all abilities are welcome to join us on the day when we will have a range of courses to suit everyone.
Results
Organiser's Report
Thanks to everyone who came along to beautiful sunny June afternoon in East Lothian and to Joel who planned for the first time. Challenging courses were always going to be the order of the day at this time of year with the vegetation springing up in June. 
Particular thanks to Robin, Sheila and Pete who all helped out without running and to Jenny, Jamie, Ian and Jeff who helped with the start and/or brought in the controls. There must have been a slight sinking feeling about volunteering for that when the heavens briefly opened later in the afternoon but thankfully it cleared up again quickly. 
We look forward to seeing you in North Berwick at the end of August.
Read more