North Berwick
Lodge Grounds and the Glen
Wednesday 20th May
The second in ELO's Wednesday series was held on the sunny evening of 20th May in North Berwick.
Results
 are now available.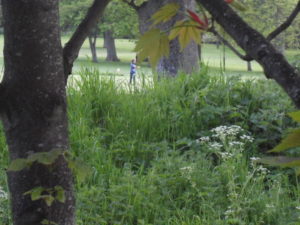 There was an excellent turnout of approximately 80 competitors on just 3 courses. Four different cub and scout troops took part so it was a challenge to fit everyone into the one hour window for starts. Many thanks to all those who took part and to all the ELO members who helped put the event on.
Unfortunately a couple of the tubes used in the Long Orange course were removed almost as soon as they were put out – apologies if you were bamboozled by the missing controls and thanks to Tim for coming back for a replacement in the middle if his run.
And the experiment of using a less detailed map for the middle section of the Long Orange course wasn't entirely successful. There are a few issues to resolve before the next event in this series which will be at Neilson Park in Haddington on 4th June.
More photos on the Gallery page
Event info:
All courses will start in the Lodge grounds near the public car park *. Starts will be from 18:00 until 19:00. Courses close at 20:00. £2 for adults and 50p for juniors.
There will be a Yellow course (approx 2 km) suitable for younger juniors and beginners within the park area. There will be a Long Orange course (approx 5km) which extends from the Lodge across the playing fields to the Glen and will include two road crossings.
Both courses will be simple and informal. You will be timed at start and finish but on the course you just need to visit each control. Controls on the Yellow course will be mini kites and on the Long Orange will be tubes.
The map will for the Yellow will be a fully detailed orienteering map. Part of the Long Orange course will use a less detailed OpenOrienteering map.
The terrain is open parkland. Runners on the Long Orange will see some nettles and brambles but you should easily be able to avoid them all. Please do not run across the ornamental flower beds!
This series of similar events will visit two more towns of East Lothian in the coming weeks:-
Wed 3rd June – Haddington – Neilson Park and the Tyne Path
Wed 17th June – Tranent – Polson Park and the Heugh
All the events aim to provide an introduction to orienteering for beginners and a fast mid-week training run for experienced orienteers.
* Parking is free from 18:00 – Before 18:00 there is a small free area and a larger Pay and Display at £2 per hour
The 17:14 train from Edinburgh Waverley arrives at NB at 17:48 and the 17:49 arrives at 18:22. The 20:26 from NB reaches Waverley at 20:59.