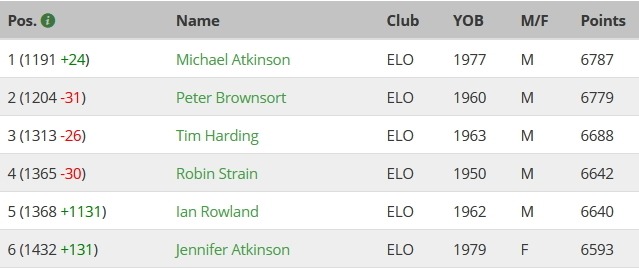 With a strong start to the week at the Scottish 6 Days festival Michael Atkinson becomes the highest placed ELO member in the current British Orienteering (BOF) rankings. Michael replaces Pete Brownsort as ELO's top point scorer.
However Michael's time as our Number 1 will be brief. That is because when the later 6 Days scores are taken into the calculation Ian Rowland will regain the top spot with his good performances on Days 4 and 5. Unluckily Michael suffered an ankle injury on Day 4 which restricted his chances of further high scores. Like Ian, Kathryn Neill will also jump up many places as she completed her set of counting scores.
To appear in the rankings you need to be at least 16 and compete at a regional event (or higher). You also need to be a member of BOF – not just of SOA. Your best six scores within the previous 12 months count to your ranking position.