Scottish Championships 2015
23rd & 24th May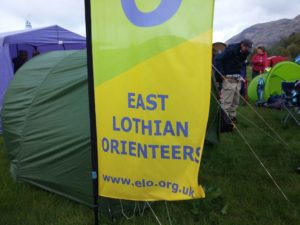 This year's Scottish Championships were held in the west using areas on the south shore of Loch Etive. The terrain was suitably challenging. Many orienteering maps are marked with marshes which dried up long ago – but on the Ardnaskie and Airds Park maps the marshes were very much alive and splashing.
Just five ELO members attended for the weekend. In Saturday's Individual event Sheila Strain added to her lengthy list of honours by becoming the W65 champion – many congratulations to her. Trina Rogerson (7th) and Robin Strain (17th) also put in good performances in their own respective categories.
In Sunday's Relay event everyone enjoyed the slightly gentler but still steep wooded terrain. ELO only fielded one complete team but we did manage 4th place in the 21+ point category – just missing out on a podium place by a minute or so.