Scottish Championships weekend
19/20/21 May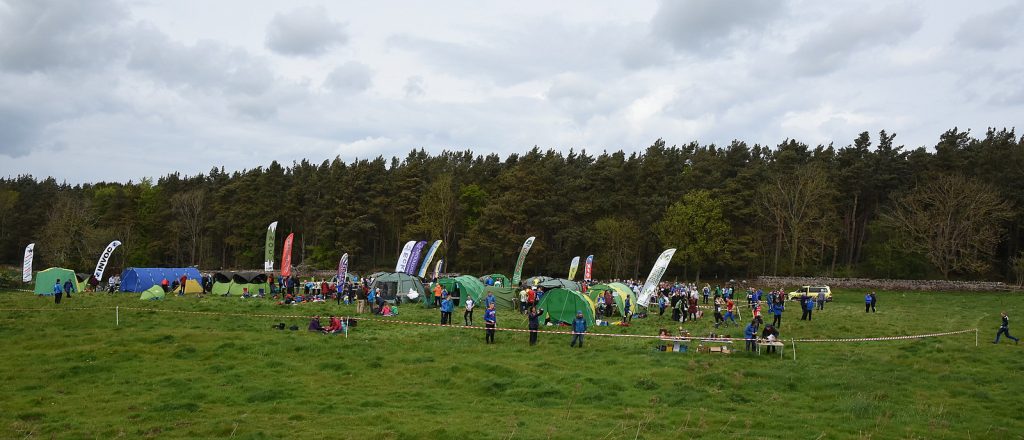 For the first time in many years the Scottish Orienteering Championships were held in East Lothian. All three days of high quality orienteering attracted top orienteers and challenged participants across the full age range.
Friday 19th May saw ELO stage an event at Tranent in the Scottish Orienteering Urban League. Robin Strain planned well-received courses which provided fast racing and quick decision making around the housing estates south and west of Ross High School.
Saturday 20th May was the day for the Scottish Individual Championships staged at Gullane and Yellowcraig. The dunes and coastal woods were a suitable test for all competitors with the Men's Elite course including 48 controls in over 15km of running. Unfortunately the first heavy rain for several months cooled the runners but was a less welcome damper on the atmosphere in the event arena within Archerfield estate.
Sunday 21st May was Relay day at Binning Wood. Teams of three runners each raced in nine different categories according the runners' ages. The weather stayed fine and the sloping race arena south of the wood allowed spectators to cheer on their teams. The wood has seen a lot of rhododendron clearing and track building in recent months but the complex path network still proved tricky for many runners.
ELO did not have any champions to celebrate but there were many very encouraging performances – here are just some of the most notable…
Friday …

4th on course 7 – Joel Atkinson
6th on course 7 – Duncan Riley
10th on course 2 – Duncan Edmondson

Saturday …

2nd on M12 – Angus Wright – nearly a Scottish Champion as less than a minute behind the winner
3rd on M10 – Innes Wright
3rd on W65 – Sheila Strain
4th on M65 – Robin Strain
6th on M12 – Joel Atkinson
6th on W65 – Trina Rogerson
Also Michael Atkinson was first on the M40 Short course – and former member Kirsten Strain was Native Scot Women's Champion

Sunday …

4th place in -36 category –  Ashley Curtis / Innes Wright / Angus Wright
5th place in -36 category – Ripley Curtis / Emily Atkinson / Joel Atkinson
The relay was particularly encouraging. For the first time we entered 8 teams and all 24 runners successfully completed their courses. This is especially commendable as several of our runners were tackling longer and more difficult courses than ever before – especially Megan Wright who completed her TD5 course in good time despite never having tackled anything tougher than TD3 before. All three teams of juniors did well and the signs look good for the future.
Crawford Lindsay of ESOC took photos on Sunday of the action and the prizegiving – they can be seen on his Flickr account.