North Berwick Law
27th May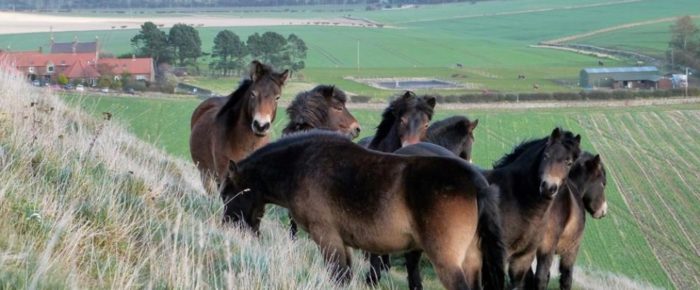 Results
Planner's Report
Weren't we lucky with the weather?!  The rain held off until everyone had run, the controls were all collected, and we were all back home.
The Law is a tricky area to plan for.  It is small, often steep, mostly open, contains several hazards, and since the arrival of the ponies and the efforts of the rangers to combat path erosion, is tightly fenced.  So it is very constrained.  The Whisky Bottle and the wooded area add a little variety, but the former has a steep-sided lake that make its nice path network questionable for junior courses, and the latter turned out to be largely full of brashings!  I was very grateful for the urban map that permitted a new twist for the Light Green course.  The White and Yellow courses didn't work at my first attempt (looked great on paper!), but fell into place after I swapped them around and made some additions and corrections to the map.

In retrospect, I would have liked to mark the stiles more clearly, but most people seemed to enjoy the courses, despite a few nettle stings and scraped knees.
Thanks to Pete for being Organiser, to Tim Gibson for letting us use the allotment area as a link to the Whisky Bottle, to Val for providing cake and hot drinks, and to everyone else that helped the event happen.  And thanks for coming out and running!
Details
The May local event in our regular slot of the last Saturday of the month was around and near (North) Berwick Law. Tim Harding was our Planner.
Starts from 2 to 3pm. Courses close at 4pm.  The threat of rain late afternoon seems to have backed off a bit, but it might be wise to arrive earlier rather than later…
Parking is at NT552842 or EH39 4DS. Streetmap  Google Maps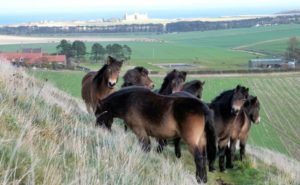 Registration, Start and Finish are all here too.
If you'd like to come by public transport, it's a 20-minute walk from the rail station (trains from Edinburgh are roughly every half-hour on Saturdays), or a 5-minute walk from the 124 bus stop at the Sports Centre.  There are pavements and a footpath all the way.
Toilets and Refreshments are available at North Berwick Sports Centre which is 500 metres away (walk towards the town and bear slightly left after the Primary School). Please be aware that although the Sports Centre has a nice cafe area, recent staff shortages mean that it is not always serving–however there are still vending machines with drinks and snacks.
Law Primary School is 300 metres away (just before the Sports Centre) and is holding its School Fair from 11am until 3pm on the day of the event.
Registration: You can download and complete the registration form and bring it with you.
Map is roughly A4 at 1:5000 with 5m contours. Note that the crags, bare rock and paths over the top of the hill have not been mapped (this area is not recommended as part of any good route choice).  Also, in the areas visited by the courses, not every boulder, tree, post or path is mapped, so please use the map in that spirit!
Course Information
There will be White, Yellow, Orange and Short Light Green courses around the Law, plus a Full Light Green course which will include an urban section and therefore is not open to unaccompanied under-16s.  Course lengths will be approximately as follows:
| Course |  Length (km) | Difficulty | Notes |
| --- | --- | --- | --- |
|  White |  1.7 |  Very easy | |
|  Yellow |  2.0 |  Easy | |
|  Orange |  2.8 |  Medium | |
|  Short Light Green |  3.3 |  A bit harder | |
|  Full Light Green |  4.9 |  A bit harder |  Not open to unaccompanied under-16s |
SPORTident (SI) electronic timing will be used. We'll have SIs for hire free of charge but there is a £30 charge if lost.
Terrain: Mostly rough hillside, steepish in some parts, and gentler slopes with a good path network.  The Light Green courses (Short and Full) will also visit the 'Whisky Bottle' woodland area, and the Full Light Green includes an urban section.
Footwear: As grippy as possible, especially if it's wet.  There are also patches of (smallish but growing) nettles, which may not be fully avoidable on the Light Green and Orange courses, so you might want good high socks (or even gaiters)!
Other Users: The woods are very well used by the general public including dog-walkers and families. Please respect their right to be there at the same time as you are orienteering. Please observe all out-of-bounds areas, particularly any that are unfenced (although courses avoid any temptation to cross these).
Entry Details
Seniors 
British Orienteering members – £3
Non-members – £5
Juniors 
British Orienteering members – £1.50
Non-members – £2.50
Groups (Adults + children)
Each additional adult in a group: add £1
Each additional Junior a group: add 50p
Safety and Risk
A comprehensive risk assessment has been carried out by the organiser, but participants take part at their own risk and are responsible for their own safety during the event.
There are some steep rocks and water hazards (a small but deep lake in the Whisky Bottle area to the west, a pond at the south-west foot of the hill, and a large marshy area to the north).  Courses are designed to keep routes away from craggy areas, particularly for the "junior" courses, and not to invite you to cross the marsh.  Only the Light Green courses visit the Whisky Bottle.  However, it's not possible to avoid all hazards for all courses, so please be careful, and parents should make youngsters aware.
Ponies are loose on the Law and should not be approached or fed.  Deer are frequent visitors to the area.  Dogs are very welcome but for both these reasons, should be kept under control.  Please clean your hands before eating.  Please check for ticks after your run.
All courses go to the far corner of the Law, which can feel quite remote, so parents might wish to shadow the very youngest runners, or pair them up.
Because of road crossings, the Full Light Green course is not open to unaccompanied juniors under 16 years old on the day of the event. British Orienteering rules do not allow any variation of this prohibition.
Privacy. When entering our events your name may appear in the results section of this website or in newspaper reports.