North Berwick Law
Saturday 26th September
September's ELO event was at (North) Berwick Law in our regular slot of the last Saturday of the month.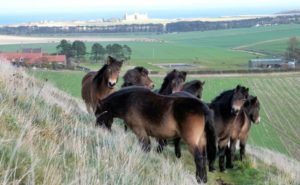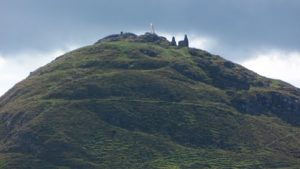 Trina Rogerson planned our first event on the Law since the ponies were introduced.
Report
More than 50 competitors from eight different clubs including a good group from Edinburgh University participated on the very varied terrain of the Law. Some did climb to the top to watch the demolition of the Cockenzie chimneys before their runs and some even met the Exmoor ponies whilst up there.
Apologies to those who were puzzled by the big crag on the north side of the hill that seemed to have disappeared from this version of the map, this despite the considerable time that Trina has spent on trying to get the crags and paths on the south side correct on the map.
Pete celebrated his 60th birthday in good company and everyone enjoyed the cakes. Thank you, Saartje, for the baking.
Thanks also to Trina for planning, Tim and Jonny for the computing, and Pete and Ian for collecting in controls.
Details
Parking is at NT552842 or EH39 4DS. Streetmap  Google Maps
Registration, start and finish are all here too.
Starts from 2 to 3pm. Courses close at 4pm
Registration: You can download and complete the registration form and bring it with you.
Control Descriptions are printed on the maps, but can be cut off if loose descriptions are preferred.
Map is roughly A4 at 1:5000 with 5m contours. Note that the crags, bare rock and paths over the top of the hill have not been mapped. (This area is not recommended as part of any good route choice.)
Course Information
| Course | Controls | Length | Climb |
| --- | --- | --- | --- |
| White | 11 | 1.8 km | 60 m |
| Yellow | 9 | 1.8 km | 80 m |
| Orange | 9 | 2.3 km | 65 m |
| Short Green | 11 | 2.8 km | 180 m |
| Long O | 20 | 5.0 km | 245 m |
There will be White, Yellow and Orange courses and Short Green course for more experienced orienteers.  The "Long O" course is basically the Orange followed directly by the Short (but steep!) Green.
SPORTident (SI) electronic timing will be used. We'll have SIs for hire free of charge but there is a £30 charge if lost.
Entry Details
Seniors 
British Orienteering members – £3
Non-members – £5
Juniors 
British Orienteering members – £1.50
Non-members – £2.50
Groups (Adults + children)
Each additional adult in a group: add £1
Each additional Junior a group: add 50p
Safety and Risk A comprehensive risk assessment will have been carried out by the organiser, but participants take part at their own risk and are responsible for their own safety during the event.
Privacy. When entering our events your name may appear in the results section of this website or in newspaper reports.