Saltoun Woods
Saturday 25th March 2017
Saltoun Wood – Saturday 25th March
Results can be found here.

Report: Around a hundred people took part in the glorious spring sunshine. There were appreciative comments for the courses set by Michael Atkinson who was planning for the first time (see his comments below). Though the many scratched arms and legs testified to how brambles have spread in the last few weeks making progress tricky as soon as you leave the path network.
Notable performances include Derek Bearhop who completed Green in his first O event and recorded the fifth fastest time behind winner Keith Brown (ESOC). ELO's top placings again came from the members of the Wright family who appeared in the first few places of all the courses except Green. Jamie Thomas ran to the event from Dunbar – then completed the tough Green course – and then volunteered to go out to collect controls. But then he is in training to run the West Highland Way this summer.
Many thanks to everyone who came and to the ELO members who helped beforehand and on the day – particularly to Tim Harding for stepping in to run the SI timing at short notice. Special thanks again this month to friends from other clubs who helped – Andrea Davison (ESOC) on Registration and control collection, and Ken Daly (INT) who searched the woods for a lost SI dibber.
---
Planner's comments:
At 9:00 on Saturday morning when leaving for Saltoun Woods to put the controls out it was already looking like it would be a glorious day and we weren't disappointed.  It meant that putting out the controls was a very pleasant experience in a quiet peaceful woodland.  It had been a pleasure to wander to the far flung corners of the map on a few recce visits and as I was planning for the first time I was very grateful for Pete Younger's mentoring and insights along the way which was invaluable!

The woodpeckers, buzzards and snowdrops had all made themselves scarce by the time the event was in full flow and were replaced by some off-path brambles which had come up dramatically in parts over the past two weeks.

There were plenty of paths and tracks for the white and yellow courses and some good opportunities to get off the paths for the Orange course with longer pathed options available.  I was particular pleased to be able to plan a course which was more green than greenish as I know that's not always the case  It was nice to hear lots of discussions afterwards about routes and navigation and to receive some positive feedback about how things went out in the forest. All-in-all planning was a steep learning curve but well worth the time and effort – thanks to ELO for giving me the opportunity!
---
Our March local event will be at Saltoun Wood which is one of our prime areas. Tracks, paths and rides divide the woodland into small blocks of varied character – deciduous, coniferous and mixed. There will be the usual courses for a local event – White, Yellow, Orange and Green courses – plus a Long Orange suitable for anyone who wants an extended run without too tough a navigation challenge.
Starts from 2:00 pm to 3:00 pm.
Please arrange to share transport if possible as parking is limited. We will prioritise vehicles with young families for the closest parking to the event. See below for more details.
Terrain:
Mixed woodland with a good track and path network.
Even the main paths have muddy sections.
None of the courses cross the river but the longer courses may pass close to it – please take care where there has been localised subsidence of the banks during the winter.
Even at this time of year there are brambles and some patches of dense undergrowth but these should be fairly localised and avoidable.
Some areas of recent clearing and thinning may appear more dense on the map than they are on the ground.
Some recent timber retrieval lanes have not been mapped and smaller drainage ditches may not be mapped.
Courses have been planned to avoid areas where trees have fallen over paths in recent storms – this mostly affects paths beside the river.
General Information
Other Users: The woods are very well used by the general public. Please respect their right to be there at the same time as you are orienteering and leave the small "official" car park at the entrance to the wood to its regular users. You must not enter any out of bounds areas.
Dogs: Area is well used by dog walkers so dogs are welcome.
Location
Nearest town: Pencaitland
Grid Ref: NT 465 669
Postcode: EH34 5EH
Directions: 
Parking is at the farmyard south of the minor road between
East and West Saltoun
. The turning is signposted Saltoun Big Wood. Both villages are south of Pencaitland in East Lothian.
Registration and Download will be at the car-park which is approximately 400 metres from the entry to the woods with a further 200 metres to Start and 100 metres to Finish.
Parking: The main parking has been arranged in the farmyard at NT 465 669. Please bring £1.
As parking is limited we may also need to use a more distant overflow car-park and will then prioritise vehicles carrying children for the main car-park.
Registration & Start Times
Registration
: From
1:30 pm
to 2:45 pm.
Pre-entry is not available; all entries will be taken on the day. The
registration form
can be downloaded and completed before you arrive.
Start and Finish – Start is about 200 metres into the wood (ie 600 metres from car-park / Registration).
Finish is about 100 metres into the wood (ie 500 metres from car-park / Download).
Start times will be from 1.45 pm to 3.00pm.
Courses Close
–
P
lease report to the Download by
4:15 pm,
even if you have not completed your course. Controls will be brought in from
4:15 pm
.
Course Information
White     (1.7 km – very easy navigation – controls are all on paths)
Yellow    (2.2 km – easy navigation – controls all on or visible from paths)
Orange  (3.3 km – moderate navigation – controls are generally close to paths)
Green    (4.5 km – difficult navigation – controls are hard to find and to reach)
Long Orange (6.3 km – moderate navigation – controls are generally close to paths)
SportIdent (SI) electronic timing will be used. If you have your own SI please bring it with you. We will have SIs for hire free of charge but there is a £30 charge if lost.
Entry Charges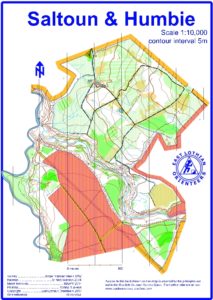 Entry is cheaper if you are a current member of a club and affiliated to British Orienteering (BOF). Please make sure that your membership has been renewed for 2017.
Adults (born in 1996 or earlier)
BOF members – £4
Non-members – £6
Juniors (born in 1997 or later)
BOF members – £1.50
Non-members – £2.50
Groups (Adults + children)
Each additional adult in a group: add £1
Each additional junior in a group: add 50p
Planner: Michael Atkinson
Results:
Can be found
here
.
Safety and Risk
A comprehensive risk assessment has been carried out by the organisers, but participants take part at their own risk and are responsible for their own safety during the event.
All buildings and equipment in the farmyard are strictly out of bounds.
Parents with small children should note that there are landscaped ponds close to the Start / Finish areas.
There is ongoing forestry work and the resulting log piles must not be climbed on.
Privacy: When entering our events your name will appear in the results section of this website  and possibly in newspaper reports.