Haddington SOUL
Saturday 26th November 2022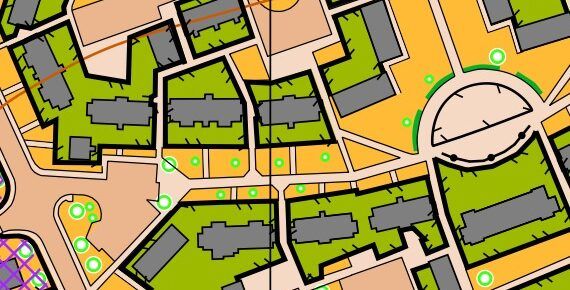 Haddington is the largest town in East Lothian and features a range of different styles of urban running which we are sure you will enjoy as the climax to the 2022 Scottish Orienteering Urban League.
This section of the Haddington map has not been used for a large event before and it has been extended specially for the event into areas of complex housing with many cut-throughs and open areas.
Orienteers of all abilities are welcome to join us on the day when we will have a range of courses to suit everyone.
Planner's Report
Thank you for coming to Haddington for ELO's first SOUL event since 2017. Urban maps are always challenging to get right and I hope you enjoyed the largely traffic-free courses around Haddington. 
The main constraint in planning was ensuring that courses  6 and 7 did not have to cross any roads and so a finish under the bridge was a sensible option so that they could also get to download without an unaccompanied road crossing.  This did mean a bit of running across the grass at the end for the senior courses although you still had to have you wits about you to ensure that you went to the right controls. 
Haddington has a lot of grassy areas and cut-throughs and it was pleasing to see a lot of different route choices on both the shorter legs and the longer ones, especially on courses 1, 2 and 3. 
Particular thanks go to Neil McMillan for helping to set out controls on Saturday morning and to Colin for his calm controlling.  Thanks also go to Ross Lyall and Jamie Wilson who collected controls in the fading light as we had decided to have later starts to keep in our regular last Saturday afternoon slot and allow those travelling further to not have quite such an early start as we appreciate that we aren't exactly centrally located. I would also like to thank Trina for her calm and efficient organising!
Results
General Information
Type of event:
Regional event in the Scottish Orienteering Urban League (SOUL) series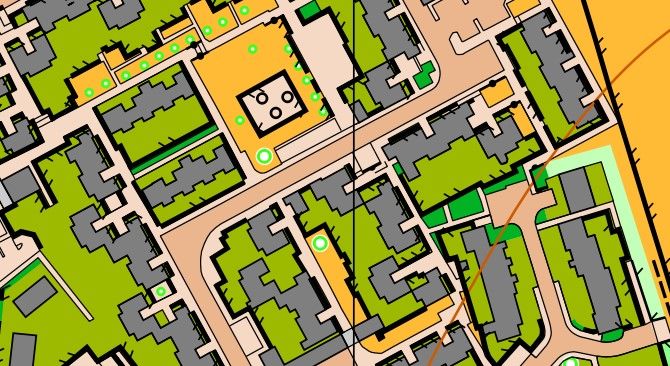 Terrain:
A mixture of urban terrains including complex housing.
Because of road crossings on other courses, under 16s must compete in Courses 6 & 7.

Please observe any out of bounds areas.
Other Users
The area is very well used by the general public including dog walkers and families. Please respect their right to be there at the same time as you are orienteering.
Dogs
The area is well used by dog walkers so dogs are welcome to come with orienteers.
Toilets:
Toilets are available at registration.
Accessibility:
The courses are paved and are buggy accessible.
Location
Nearest Town: Haddington
Grid Ref: NT517734
Nearest Postcode: EH41 4DD
Directions
Take the signposted exit from the A1 and follow signs to Aubigny Sports Centre. Mill Wynd has plenty of on-street parking and the southern side is regularly used as parking for sporting events.
Registration is a short walk away at the Poldrate Mill.
Public Transport
Haddington is served by regular buses from Edinburgh
Nearest Defibrillator:
Aubigny Sports Centre
Registration & Start Times
Registration
This was primarily online. Look for the ELO flag outside the Poldrate Mill on the day if you need to pick up a dibber. Some entry on the day (EOD) will be offered subject to map availability.
Please select an early start time window if you might take a long time to complete your course. This is particularly important in this season of short daylight.
We will not be allocating formal start times but would ask that competitors come early/middle/late within the start window to avoid congestion.
Start and Finish:
Start times are between 1:00pm and 2:30pm.
The Start and Finish locations are less than 150m walk from registration.
Maps for course 7 will be available in the start area before you enter the start lanes.
Unless you need to collect a hired dibber, you may proceed straight to the start area.
Courses Close:
The courses will close at 4:00pm, so if you have not completed your course by then, you must stop and return to assembly.
Whether you complete the course or not, you must report to the Download point, so that we know you are not lost or injured in the streets!
Course Information
Map
The map is printed at 1:4000 with 5m contours.
Timing
SportIdent (SI) electronic timing will be used – we will have SIs for hire free of charge but there is a £30 charge if lost. Units, apart from start and finish, will be set for contactless punching.
Please note that courses 1 and 2 have more than 30 controls, so if you normally use an SI-Card 5 (number range 1-499,999) or SI-Card 8 (2,000,001-2,999,999) then you will need to borrow a larger capacity SI-Card 9 from us (free of charge). Please opt to hire a card when you enter these courses.
All units except for Start and Finish will be set for contactless punching. If your card does not flash and beep then punch by 'dibbing'. 
Live results will be available at www.elo.org.uk/latest-results.
Courses
There will be 1 (Men's Open), 2 (Women's Open / Men's Veteran), 3 (Women's Veteran / Men's Supervet), 4 (Women's Supervet / Men's Ultravet), 5 (Women's Ultravet & Hypervet / Mens Hypervet), 6 (Junior Men/Women), 7 (Young Junior Men/Women) and courses.
| Course | Length / Ascent | Description |
| --- | --- | --- |
| 1 (Men's Open) | 9.1km / 50m | |
| 2 (Women's Open / Men's Veteran) | 7.4km / 50m | |
| 3 (Women's Veteran / Men's Supervet) | 5.8km / 40m | |
| 4 (Women's Supervet / Men's Ultravet) | 4.7km / 30m | |
| 5 (Women's Ultravet & Hypervet / Mens Hypervet) | 3.5km / 20m | suitable for adult beginners |
| 6 (Junior Men/Women) | 2.6km / 15m | suitable for competitive under 16s |
| 7 (Young Junior Men/Women) | 1.6km / 10m | suitable for competitive under 12s and beginners under 16s |
| | / | |
More details about the colour coding is available on the Scottish Orienteering website.
Organiser:
Trina Rogerson
Planner:
Michael Atkinson
Controller:
Colin Eades
Other Information:
The lengths given are the optimal running lengths for the courses rather than straight line distances.
Veterans are 40+, Supervets are 55+, Ultravets are 65+ and Hypervets are 75+ (using ages on 31 December 2022).
Please take care on slippy surfaces and going round corners.  Courses 6 and 7 do not need to cross any roads.
Entry Charges
British/Scottish
Orienteering member*
Non‑member
Seniors
£10
£12
Juniors
£5
£6
Pair of Seniors
£12
£14
Pair of Juniors
(no accompanying adults)
£6
£7
Larger Family Groups
(one or more children accompanied by one or more adults)
£7
£8
Seniors – Late Entry
(from Monday 21 November)
£12
£14
Juniors – Late Entry
(from Monday 21 November)
£6
£7
Juniors are under 21 on 31st December.
Safety and Risk
A comprehensive risk assessment has been carried out by the organisers, but participants take part at their own risk and are responsible for their own safety during the event.
Road crossings mean that under 16s on the day of the event must compete in courses 6 and 7 unless they are accompanied by an adult at all times on another course.
Other courses cross roads and there are uneven surfaces which present a risk to competitors who must be vigilant to the conditions. Please ensure that you complete courses at a pace which matches your fitness levels and the weather on the day.
Medical Conditions:
If you, or anyone in your group (including juniors), have a medical condition that first-aiders or health professionals should know about in the event of accident or illness during the course of the event please print off the Medical Form, complete it fully and bring it along to the event. You should complete a separate copy for each individual who has a medical condition. Please leave the completed Medical Form at Event Registration. If it is not in a labelled sealed envelope, it will be put in one and will be opened only in an emergency. It will be shredded immediately after the event if you do not claim it back.
Privacy
When entering our events your name will appear in the results section of this website and may appear in newspaper reports.
We may also take photographs at the event for publicity purposes – please let us know if you do not want us to use your photograph in this way.
Read our privacy policy.