ELO Butterdean
29th August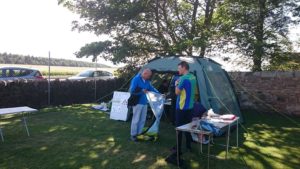 Our last local event was held on Saturday 29th August at Butterdean near Gladsmuir. Here are the results and WinSplits for analysing the results.
Julian Hall is the Planner.
Register between 2pm and 3pm in the play park in Gladsmuir Village (NT458732, EH33 1ED) then walk a few hundred yards down the road to the wood. There is almost no parking at the wood, and we are asked to leave what there is for the regular users.
You can download and complete the registration form and bring it with you.
Course Information
There will be White, Yellow and Orange courses and a Light Green course for more experienced orienteers. SPORTident (SI) electronic timing will be used. We'll have SIs for hire free of charge but there is a £30 charge if lost.
Entry Details
Seniors (born 1994 or earlier)
British Orienteering members – £3
Non-members – £5
Juniors (born 1995 or later)
British Orienteering members – £2
Non-members – £2.50
Students
British Orienteering members – £2
Non-members – £2.50
Groups (Adults + children)
British Orienteering members – £4
Non- members – £5
Safety and Risk
A comprehensive risk assessment will have been carried out by the organiser, but participants take part at their own risk and are responsible for their own safety during the event.
Take care crossing the A199 in the village and keep out of fenced enclosures in the wood
Privacy. When entering our events your name may appear in the results section of this website or in newspaper reports.