Dunbar Seafield
Saturday 26th August 2017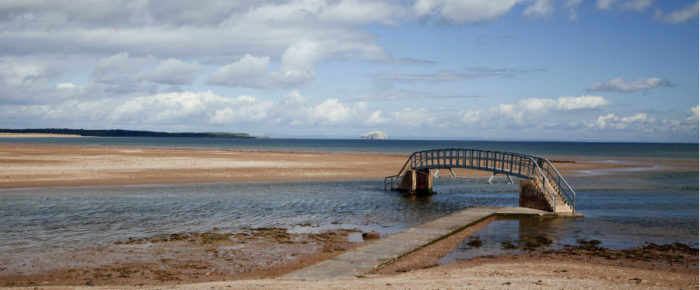 Our August event was at Dunbar in our regular slot of the last Saturday of the month. It was be based at the Seafield area of Belhaven and courses were planned by Godfrey Beddard.
Results
Advance information: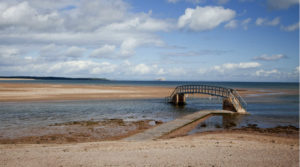 There will be a range of courses. The shorter courses stay within the shore area and adjacent caravan park but the Orange and GreenT courses include some technical legs across the estuary on 'Spike Island' (i.e. the sand dunes running west from Belhaven Bay) and therefore are subject to the tide; also, GreenT has specific Start / Finish times…
White / Yellow / Orange – Starts from 13:00 until 15:00 – courses close at 16:30
GreenT – Starts from 13:00 until 14:30 – course closes at 16:30.
For something different (and hopefully interesting!) the GreenT course uses a special training version of the Spike Island map with contour detail, but with no paths marked although we have also printed copies of the courses with the (confusing) paths included. You can choose which to take.
Final Details
Type of event
Local event in the East of Scotland Orienteering Association (ESOA) series.
Type of terrain
Parkland for shorter courses with Orange and GreenT course adding technical legs in sand dunes.
Other Users
The shore area is very well used by the general public. Please respect their right to be there at the same time as you are orienteering.
Dogs
Area is well used by dog walkers so dogs are welcome.
Location
Nearest town: Dunbar
Grid Ref: NT663786
Postcode: EH42 1NU
Parking
Registration will be at the Shore Road car park off Edinburgh Road in the Belhaven area of Dunbar. This is a Pay and Display, East Lothian Council car park (£2).
Registration & Start Times
Registration
From
12:45 pm
to 14.15 pm in the Shore Road car park. Pre-entry is not available; all entries will be taken on the day. The
registration form
can be downloaded and completed before you arrive.
Facilities
Toilets are across Shore Road
Start and Finish
Close to the registration.
Courses Close
A
t 16:30 for all courses.  P
lease report to the Finish (and Download) by
16:30
even if you have not completed your course. Controls will be brought in from that time.
Course Information
Map
The maps have had minor revisions for the event and the map for GreenT is a special training version without path detail in the dunes. All courses are printed on A4 waterproof paper and the scales are shown below. There is no key to the symbols on the map; ask if you would like a loose copy.
Courses
White (very easy) 1.7 km  – 1:5000 map
Yellow (easy) 1.8 km  – 1:5000 map
Orange (moderate) 3.1 km  – 1:5000 map
Green & GreenT (Green Training) (hard) 5.2 km  – 1:7500 map
There is very little climb on any course.
Timing
SportIdent (SI) electronic timing will be used. If you have your own SI please bring it with you. We will have SIs for hire free of charge but there is a £30 charge if lost.
Entry Charges
Seniors (born 1995 or earlier)
British Orienteering members – £3
Non-members – £5
Juniors (born 1996 or later)
British Orienteering members – £1.50
Non-members – £2.50
Groups (Adults + children)
Each additional adult in a group: add £1
Each additional junior in a group: add 50p
Safety and Risk
A comprehensive risk assessment has been carried out by the organiser, but participants take part at their own risk and are responsible for their own safety during the event.
The Start / Finish times for GreenT have been chosen to avoid risks from high tide which is expected at 18:30.
Privacy
When entering our events your name may appear in the results section of this website or in newspaper reports.