Musselburgh: Levenhall Links
Saturday 30th September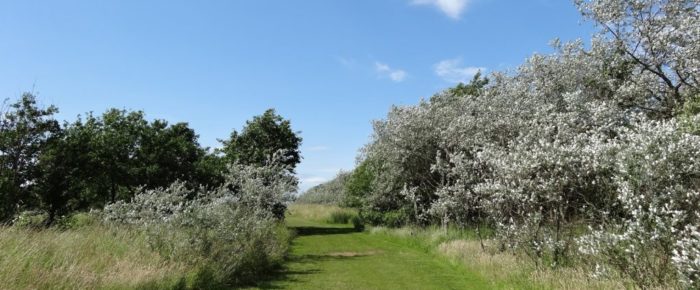 Results:
Report:
Many thanks to everyone who came and especially to Tim and Val Harding for running the entries and SI timing as well as to Trina Rogerson and the Atkinson family for their invaluable contributions.
Considering the number of other events on today the turnout was gratifying and most people seemed to enjoy the gentle and varied pleasures of Levenhall Links.
Fastest six on Light Green were all ELO members with Thomas Brownsort in top spot – despite feeling under the weather!  Congratulations also to Angus Wright and Joel Atkinson for very successfully stepping up to Light Green for the first time.
And well done to all the first time runners who skipped round the Long Orange course.
Course times were fast – perhaps helped by the recent mowing away of large areas of waist-high grass from the centre of the map. The balance between open land and woodland is constantly changing here and mapping stuggles to keep track with the new growth. In a few years the available area for courses should grow as the ash lagoons become covered in vegetation.
Our next event will be at Yellowcraig near Dirleton on 28th October. It will use the new map created for the Scottish Championships in May 2017.
PY
---
ELO's September event will be held at Levenhall Links between Musselburgh and Prestonpans.
Type of event:    Local event in the East of Scotland Orienteering Association (ESOA) series.
Advance info:
There will be the usual Saturday range of courses plus a Long Orange course designed for strong runners who are new to orienteering or want a gentler navigational challenge.
This is the first 'full' event at Levenhall since February 2014 – although there was a SprintELOpe here in May 2015 too.
Type of terrain:  Parkland with scattered dense plantations. Runners on Light Green will meet nettles intruding onto the narrow paths through woodland so full leg cover is recommended.
Levenhall Links is an interesting area in that the whole of the western part, the main section of the map, has been built up over the years from the ash from Cockenzie Power Station. Old maps show the racecourse as being on the shore originally. The sea wall was built and then the lagoons were filled with the ash slurry which was pumped from Cockenzie and sprayed out. As the sections were filled, they were landscaped, forming the pond and the bird sanctuary (the out of bounds area just east of the pond). Now that the power station has closed and been demolished, the remaining dark ashy bits are gradually becoming more attractive.
The map includes the old Morrison's Haven, a once-thriving harbour which was infilled for safety reasons after it fell into disuse in the early twentieth century. Prior to that, the area around the harbour was an industrial site with chemical based factories, making sulphuric acid, soap, glass etc.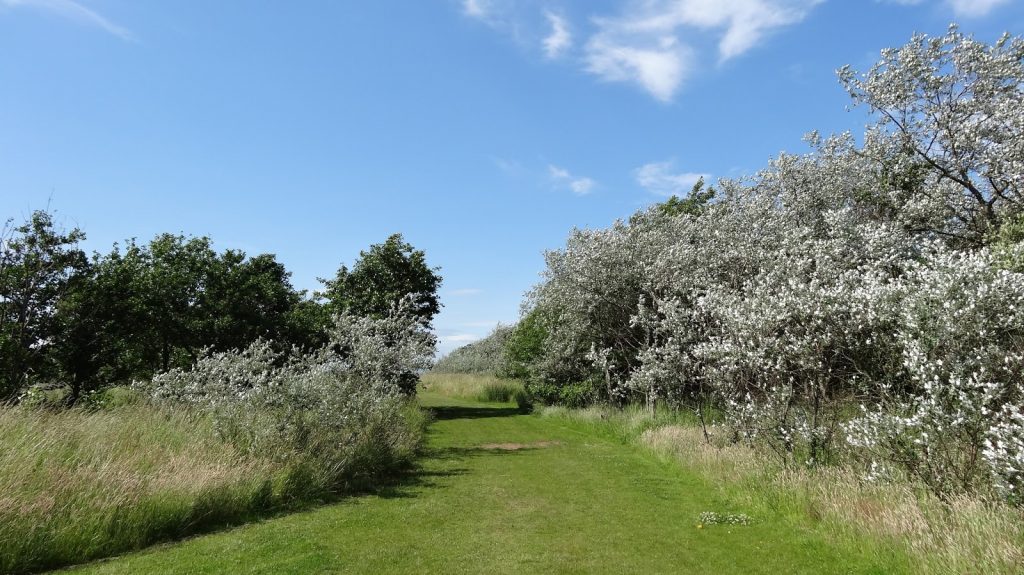 Other Users: The whole area is very well used by the general public. Please respect their right to be there at the same time as you are orienteering.
Dogs: Area is well used by dog walkers so dogs are welcome.
Location
Nearest town: Musselburgh
Grid Ref: NT 363 733
Postcode: EH21 7PS
Parking:
Registration will be adjacent to the first car park*** after entering Levenhall Links from B1348 coast road between Musselburgh and Prestonpans. There is no parking charge although there is a height barrier of 1.9 metres at the B1348 junction. High vehicles can be parked at the Prestongrange Museum car parks (see link below) approximately 750 metres from registration.
*** If this car park is full please don't use the further car park near the boating pond as this is well used by kayakers and dog walkers and it impinges on most courses – instead please park further east off the B1348 at Morrison's Haven car park (height barrier) or at  Prestongrange Museum.
Registration
: From
12:45 pm
to 14.15 pm. Pre-entry is not available – entries will be taken on the day. The
registration form
can be downloaded and completed before you arrive.
Start and Finish – Close to the registration.
Courses Close
– A
t 16:30 for all courses.  P
lease report to Finish (and Download) by
16:30
even if you have not completed your course. Controls will be brought in from that time.
Course Information
White             (very easy)     1.6 km
Yellow            (easy)             2.5 km
Orange          (moderate)      3.7 km
Long Orange (moderate)      6.0 km – this course gives a longer run with a gentle navigational challenge
Light Green   (hard)              5.1 km
There is little significant climb on any course.
SportIdent (SI) electronic timing will be used. If you have your own SI please bring it with you. We will have SIs for hire free of charge but there is a £30 charge if lost.
Entry Charges
Seniors (born 1995 or earlier)
British Orienteering members – £3
Non-members – £5
Juniors (born 1996 or later)
British Orienteering members – £1.50
Non-members – £2.50
Groups (Adults + children)
Each additional adult in a group: add £1
Each additional junior in a group: add 50p
Safety and Risk
A comprehensive risk assessment has been carried out, but participants take part at their own risk and are responsible for their own safety during the event.
Most courses pass close to the boating pond which is not deep but is potentially hazardous. Longer courses cross vehicle tracks.
Privacy: When entering our events your name will appear in the results section of this website and possibly in newspaper reports.