North Berwick Law
Saturday 24th February 2018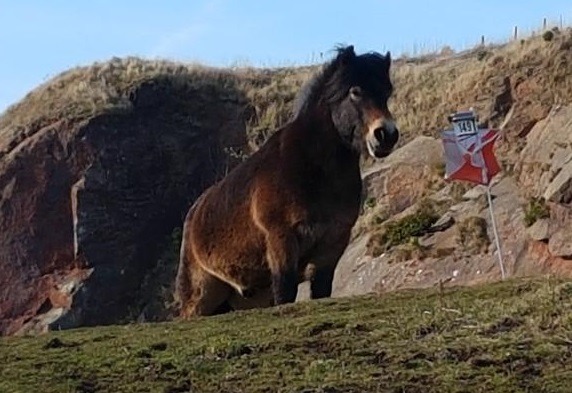 Results
Report:
Well done to anyone who completed today's courses – tougher than usual with steep climbs and slippery conditions underfoot.
Many thanks to the small ELO team today – Michael (liaised with junior training session at Yellowcriag), Saartje (meeting and greeting) and especially to Tim who ran the entries and timing almost single handed – and then ran – and then collected some controls. Robin checked maps and set up the timing for us beforehand.
It was great to see so many new faces today – we hope you enjoyed it. Next month's event is at Vogrie Country Park on 31st March – and we can guarantee there won't be so many hills to climb there.
Lost property:
Found at the car park …
One pair dark grey gloves
One pair khaki-greenish gloves
One small ring
One dibber, number ending 560 — we know whose this is, and will bring it along to Fight with the Night on Thursday
Please contact us through the website if you have lost this (or need your dibber before Thursday!)
---
We look forward to seeing you on Saturday 24th February for a local event where we will have a range of courses to suit all abilities.
North Berwick Law is a conical hill which rises above North Berwick and stands at 187 metres above sea level. The Law is a volcanic plug similar to Arthur's Seat and the top has the remains of an Iron Age hill fort as well as the ruins of military buildings that were used by lookouts in both the Napoleonic wars and the second world war. A whale jawbone has stood at the top of the law since 1709 providing a distinctive backdrop to the town. However, none of the courses will visit the upper slopes of the Law.
Starts: from 2pm to 3pm. Courses close at 4pm.
Parking is at NT552842 or EH39 4DS (Streetmap  | Google Maps).
Registration, Start and Finish are all here too.
If you'd like to come by public transport, it's a 20-minute walk from the rail station (trains from Edinburgh are roughly every half-hour on Saturdays) or a 5-minute walk from the 124 bus stop at the Sports Centre.  There are pavements and a footpath all the way.
Toilets are available at North Berwick Sports Centre which is 500 metres away (walk towards the town and bear slightly left after the Primary School).
Refreshments: Coffee and cake will be available in return for donations to Saskia's fundraising appeal for Project Trust.
Registration: You can download and complete the registration form and bring it with you.
Map is A4 at 1:5000 with 5m contours. Note that the crags, bare rock and paths over the top of the hill have not been mapped (this area is not recommended as part of any good route choice).  Also, in the areas visited by the courses, not every boulder, tree, post or path is mapped, so please use the map in that spirit!
Course Information
There will be White, Yellow, Orange and Light Green courses around the Law.  Course lengths will be approximately as follows…

| Course |  Length (km) | Difficulty |
| --- | --- | --- |
|  White |  1.5 |  Very easy |
|  Yellow |  2.2 |  Easy |
|  Orange |  3.3 |  Medium |
|  Light Green |  4.1 |  Hard |
SPORTident (SI) electronic timing will be used. We'll have SIs for hire free of charge but there is a £30 charge if lost.

Terrain: Mostly rough hillside, steepish in some parts, and gentler slopes with a good path network.  All courses visit the wooded Whisky Bottle area (see Safety and Risk below). All courses include some steep sections. Most paths are likely to be muddy and slippery.

Other Users: The woods are very well used by the general public including dog-walkers and families. Please respect their right to be there at the same time as you are orienteering. Please observe all out-of-bounds areas, particularly any that are unfenced (although courses avoid any temptation to cross these).
Entry Details
Seniors 

British Orienteering / Scottish Orienteering members – £3
Non-members – £5

Juniors 

British Orienteering / Scottish Orienteering members – £1.50
Non-members – £2.50

Groups (Adults + children)

Each additional adult in a group: add £1
Each additional Junior in a group: add 50p
Safety and Risk
A comprehensive risk assessment has been carried out by the organiser, but participants take part at their own risk and are responsible for their own safety during the event.
There are some steep rocks and water hazards (a small but deep lake in the Whisky Bottle area to the west, a pond at the south-west foot of the hill, and a large marshy area to the north).  Courses are designed to keep routes away from craggy areas, particularly for the "junior" courses, and not to invite you to cross the marsh.  Parents should make youngsters aware of these potential hazards.
Ponies are loose on the Law and should not be approached or fed.  Dogs are very welcome but should be kept under control.  Please clean your hands before eating.
Privacy: When entering our events your name may appear in the results section of this website or in newspaper reports.