Festive Frolic: John Muir Country Park
Saturday 28 December 2019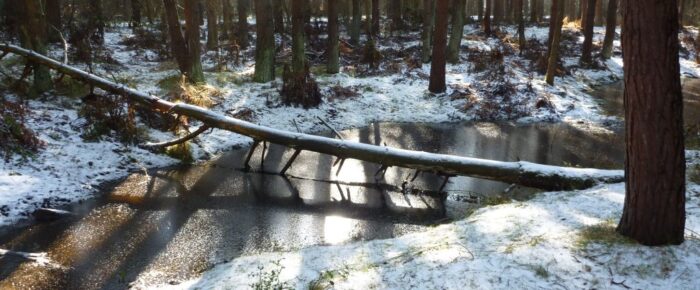 John Muir Country Park is a wonderful area for orienteering. The woods have an excellent path network and the fringe of dunes covered by spiky marram grass provides a technical challenge.
Results
The Festive Frolic is a chance to burn off some of that Christmas turkey in a fun event with a festive twist. As usual there will be a score orienteering event (find as many controls as possible within an hour) which is open to all! There will be a mass start at 11am.

Pre-entry is now open:
General Information
Type of event:
This is a score event with a mass-start. This means that you have a maximum time of 60 minutes to visit as many controls as possible. You don't have to stay out for all 60 minutes, but if you arrive back late you will get penalty points. Most people will start together at 11:00am although a few can start a little later.
There will be other ways of earning points and it may help to bring a pen with you.
Terrain:
A mix of mature pine woods and maram grass covered dunes. The area of salt marsh must only be crossed using the approved and mapped paths.  There is a good network of paths in the woods so navigation is not very challenging. This may not be as true on the dunes.
Other Users:
The area is used by the general public. Please respect their right to be there at the same time as you are orienteering. You must not enter any out of bounds areas.
Dogs:
Area is used by dog walkers so dogs are welcome.
Publicity Flyer:
You can download a flyer here.
Location
Nearest town: Dunbar
Grid Ref: NT649786
Postcode: EH42 1XF
Directions:
Assembly, registration, download and the prizegiving are in the Cafe of the East Links Family Park.
Parking:
There is quite a bit of parking at the building.
Registration and Start Time:
Registration
Registration is from 10:15am.
Pre-entry at SiEntries is preferable, saving both you and us a lot of trouble on the day and will remain open until about 10pm the evening before. Last year we had 40 entries to process in the last 15 minutes before the start!
It will help us if groups intending going round together could pre-enter one member of the group here and come to registration on the morning to give us details of the others and pay a small supplement for extra maps. Alternatively download, fill in and email back a copy of the registration form to eastlothiano@gmail.com
If you have problems with the online system or you really can't decide until the morning if you are going to come, entry on the day remains an option.
Course Information
Start and Finish:
Start and finish are together, approx 500m from Registration.
Map:
The map is printed at 1:10,000 with 2.5m contours and has seen some minor revisions.
Timing:
SPORTident (SI) electronic timing will be used – we will have SIs for hire free of charge but there is a £30 charge if lost. Controls will be enabled for contactless punching.
Courses:
There will not be a White course, but we can suggest a suitable choice of controls for beginners.
The optimum route to visit every control is approx 9 km.
Entry Charges
Seniors – £7
Juniors – £3
Groups – Adults + children – add £2 per additional adult and £1 per additional child to the above, payable on the day (but only submit one entry online).
Safety and Risk
A comprehensive risk assessment has been carried out by the organisers, but participants take part at their own risk and are responsible for their own safety during the event
Parents with small children should note that there is a pond near start as well as a fast flowing stream.
Medical Conditions
If you, or anyone in your group (including juniors), have a medical condition that first-aiders or health professionals should know about in the event of accident or illness during the course of the event please print off the Medical Form, complete it fully and bring it along to the event. You should complete a separate copy for each individual who has a medical condition. Please leave the completed Medical Form at Event Registration. If it is not in a labelled sealed envelope, it will be put in one and will be opened only in an emergency. It will be shredded immediately after the event if you do not claim it back.
Privacy
When entering our events your name will appear in the results section of this website and may appear in newspaper reports.
We may also take photographs at the event for publicity purposes – please let us know if you do not want us to use your photograph in this way.
Read our privacy policy.