SoSOL: Duns Wood
Sunday 24 November 2019
Results
Thanks to everyone who came – and especially to Lindsey Knox for being event Controller, to Alick Hay of Duns Castle for permission to use the woods, to Duns Rugby Club for use of their palatial facilities, and to the many ELO members and family who put in a long shift to make the event possible. Coffee & Cake (& soup!) stall raised £65 for Parkinson's UK
Ian Rowland's courses were well received as was Godfrey Beddard's update on the map. And – despite the mud – everybody enjoyed the beautiful woods.
Lost property: A Sprayway coat in black and grey with a navy Rab jacket lining,  a pair of Scarpa trainers
Pre-event Information
ELO invites you to the final entry in the 2019 SoSOL series at Duns Wood on Sunday 24th November. With only five SoSOLs this year the table will be decided on your best three scores over the series.
Duns Wood comprises varied blocks of woodland with an extensive path network. The conifer blocks vary in maturity and density while the deciduous areas are generally clear and runnable in autumn. With the last leaves clinging to the trees the woods are looking delightful just now – although they are wet underfoot this year.
This is the first event at Duns for six years. Godfrey Beddard has redrawn and expanded the map which now includes much ground detail missing from the previous version. See his Mapper's Notes below.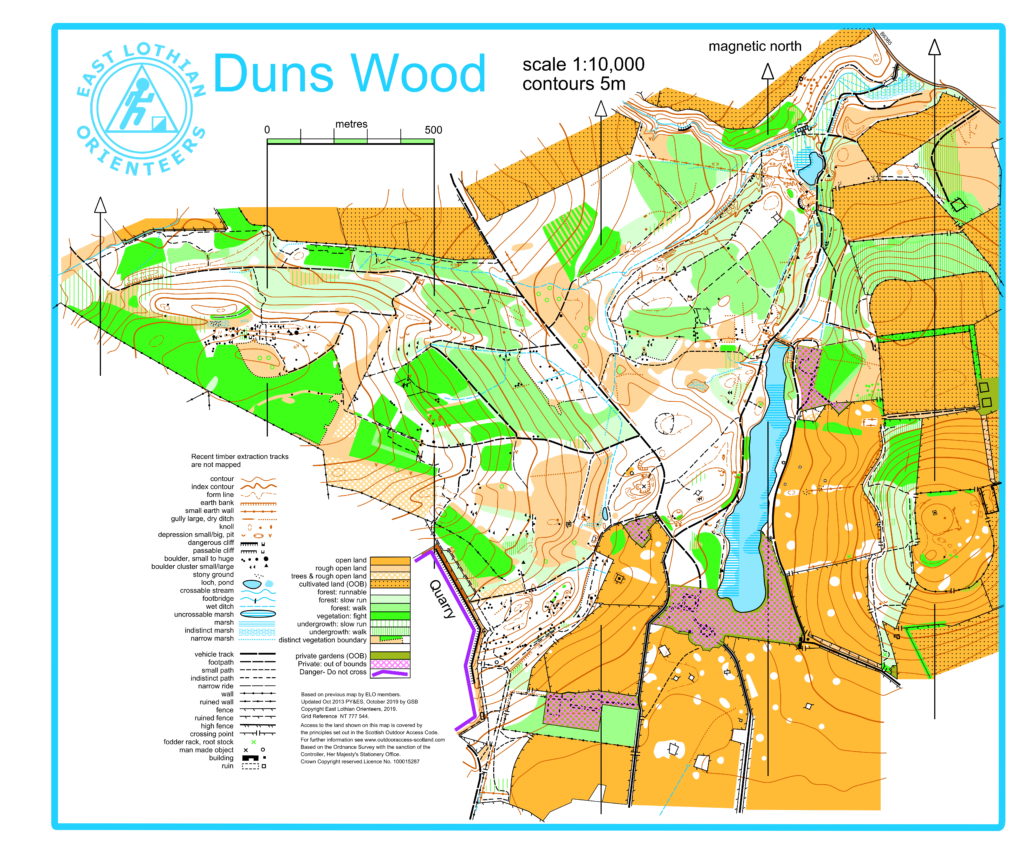 Event Details
Info updated: 20th Nov 2019
Type of event: Level C event in the South of Scotland O League
Terrain: Woodland – see below
Registration and event base: Duns Rugby Club

Location
Nearest town: Duns
Postcode: TD11 3QQ
Grid Ref: NT 777 536

Directions
Car parking and the event base are at the school complex on the north side of the A6105 at the south west edge of Duns town.
The upper car park has a narrow access road and you should not park there if you hope to leave before 12:30.
The lower car park has no access restrictions, so if you hope to leave before 12:30, you should park there.
Registration
Registration and Download will be in the clubhouse of Duns Rugby Club which is next to Duns Swimming Pool. Toilets are available in the building. Muddy footwear must be removed before entering the building.
If possible please enter in advance at SI Entries. This is being kept open until midnight on Friday to give you every chance to avoid the queues on Sunday. There will be some entry on the day (EOD) for which filling in this form will help.

Start and Finish
Distance to Start is 1.3 km. From Finish to Download is 1.5 km. There will not be a formal drop-off but you may choose to leave clothes where the paths to Start and from Finish diverge at 600m from the assembly area.
Start times are not allocated in advance. Just join the queue for your course at Start. Members of the same club should not start the same course in consecutive slots.
Starts are from 10:30 until 12:30. Courses close at 2:30 pm. Please report to the Download by 2:30 pm even if you did not complete your course.
Courses
The usual range of SoSOL courses …
Brown – 7.5 km course distance – 250 m climb
Blue – 6 km – 225 m
Green – 4.5 km – 170 m
Short Green – 3.4 km – 130 m
Light Green – 3.1 km – 100 m
Orange – 2.8 km – 40 m
Yellow – 2.1 km – 50 m
White – 1.5 km – 45 m
White and Yellow maps should be collected from Registration. Other maps (and loose descriptions) will be given out at the Start.
Maps for all courses are 1:10,000 with contours at 5m intervals.
There will not be a traditional String course but there will be an alternative activity for the very young near the assembly area.
Terrain
Duns Wood comprises blocks of mixed woodland across gentle hillsides with an extensive path network. The conifer blocks vary in maturity and density while the deciduous areas are generally clear and runnable at this time of year.
All courses include some climb. After this wet autumn all footpaths and tracks have muddy sections.
For more details see Mapper's Notes below.
The photographs on this page were taken in November 2019.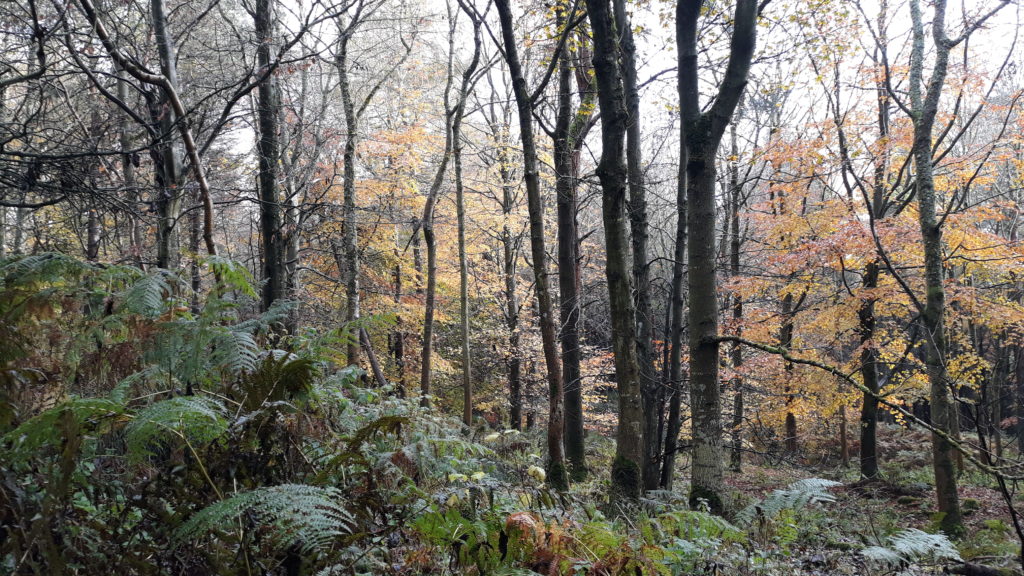 Accessibility
There are fence crossings on the route to Start so courses are not suitable for buggies.
Entry Charges
Senior (BOF or SOA member) – £8.00
Senior (non BOF or SOA member) – £10.00
Seniors (BOF or SOA member) running White / Yellow / Orange – £4.00
Seniors (non BOF or SOA member) running White / Yellow / Orange – £6.00
Juniors and students – £4.00
Results
Results will be published here after the event. There may be interim results during the event at the same link.
Contact / Officials
Planner: Ian Rowland
Organiser: Pete Younger Contact
Controller: Lindsey Knox (Roxburgh Reivers)
Cancellation
If bad weather forces cancellation or postponement that will be notified here. If in doubt you should check this website before travelling.
Facilities
Toilets:  Duns Rugby Club. Remove muddy footwear before entering the building.
Please do not use the toilets at Duns Pool as these are for patrons only.
Catering:  Coffee and cake stall at or near Registration / Download at the rugby club.
There are also soft drinks and snack dispenser machines in the entrance to Duns Pool which you are welcome to use. Remove muddy footwear before entering the building.
Assembly area
This schematic map of the assembly area shows the car parks, Registration / Download / Toilets, the "String" activity area and the route to Start.
There may be junior rugby taking place so please keep off all pitches.
Dogs must be on leads at all times in the assembly area.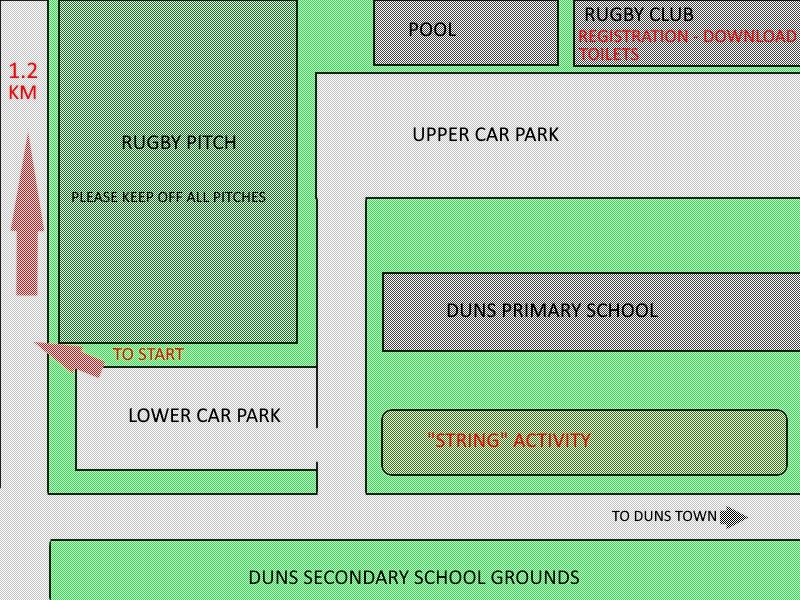 Safety and Risk
A comprehensive risk assessment is carried out by the organiser but participants take part at their own risk and are responsible for their own safety during the event.
With ongoing timber working in the woods there are several log stacks which must not be climbed on under any circumstances. There is some abandoned machinery which should not be touched.
There is a dangerous quarry bordering the SW edge of the mapped area. It is marked by prominent safety signs and a distinct boundary fence which must not be crossed under any circumstances.
Note that the area is used by the public so please warn children that they may come across dogs running loose, horse riders or mountain bikers.
Mapper's Notes
There are no seats, signposts or isolated metal gates marked.
Because of quarrying in the distant past, most knolls have an associated pit or depression, however, there are many  fallen trees whose roots leave a hole and these are not mapped as pits or depressions.
There are many small stones (1m ish ) in various parts of the area, too many to map individually but too few to be a rock field, so the number of stones marked on the map is only an indication of what is there and not to be taken literally.
A number of old tree stumps look like stones but on close examination are not. These are not mapped.
Recent woodland operations have resulted in many extraction lanes being produced. These recent ones are not mapped, but the courses are designed not to cross them anyway.
A couple of tracks are now very cut up as a result of heavy machinery, these are marked as vehicle tracks but no distinction is make as to which are runnable and which not. Again the courses are designed to avoid these as much as possible.
There are a few small ares of wind blown trees, these are marked with narrow green hash. They are easy to go around.
Privacy
When entering our events your name and/or photograph may appear in the results section of this website or in newspaper reports.
Read our privacy policy to see how we look after your personal data.
---
Please note that there is no Saturday afternoon ELO local event this month.
You can download a publicity flyer here.