Butterdean Wood
Saturday 28th October 2023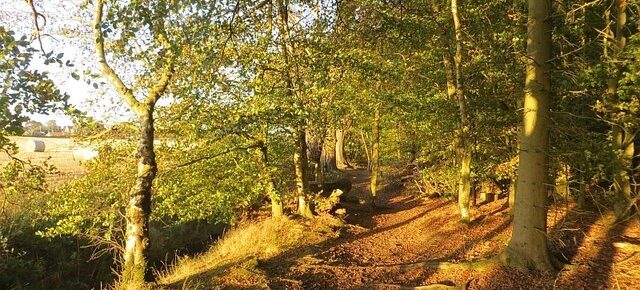 Butterdean is near Gladsmuir village between Tranent and Haddington. It is a flat wood densely planted with conifers and patches of birch or ash. There is a good track and path network. The wood is home to a range of wildlife and some animal sculptures. It is managed by the Woodland Trust and East Lothian Council.
Please note that we are using a new event base: Parking, Enquiries and Start/Finish are all on the east side of the wood – see detailed directions below.
General Information
Type of event:
Local event in the East of Scotland Orienteering Association (ESOA) series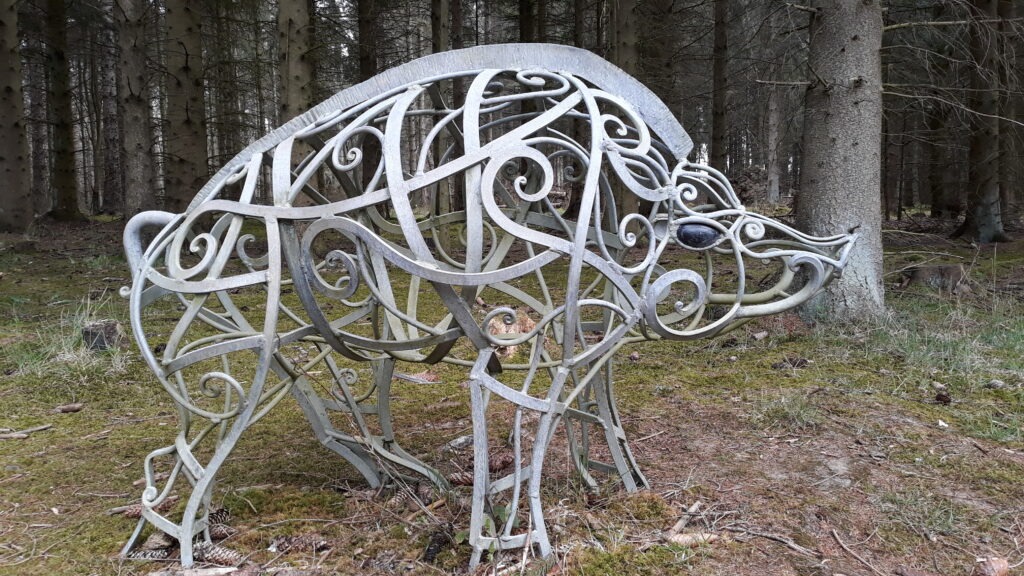 Terrain:
A flat wood mainly made up of conifers with patches of birch and ash. There is an extensive network of tracks and footpaths. The wood is varied in density with some runnable areas and other patches being very challenging to penetrate.
Even at this time of year knee-high brambles are present so leg cover is strongly recommended for all.
Please observe any out of bounds areas.
Several small coal pits within the woods are clearly fenced off and must not be entered.
Do not enter the badger sett area in the west of the wood. This is shown as OOB (out of bounds) on all maps but is not marked on the ground.
Two fenced off fields have been planted with saplings. They have gates and mown paths through them and the best routes through these areas is always by the paths.
Other Users
The area is very well used by the general public including dog walkers and families. Please respect their right to be there at the same time as you are orienteering.
Dogs
The area is well used by dog walkers so dogs are welcome to come with orienteers.
Toilets:
There are no public toilets in the area. The nearest public toilets are in Haddington and in Tranent.
Accessibility:
The bigger tracks are good but most of the smaller paths have sections which are muddy and/or very uneven with roots so the courses are not suitable for buggies.
Location
Nearest Town: Gladsmuir
Grid Ref: NT464723
Nearest Postcode: EH33 2AL
Directions
If coming by car, leave the A1 at the Gladsmuir exit and head into Gladsmuir. In Gladsmuir, turn right following signs for Butterdean Wood but continue past the public car park and at the T-junction turn right into Alba trees where registration is.
Public Transport
The 104 stops in Gladsmuir.
Nearest Defibrillator:
There will be a defibrillator at download.
Registration & Start Times
Registration
This will be online (and for newcomers near the car parking) – look for the ELO flag and tent!
Please select an early start time if you want advice first or if you expect to take a long time completing your course.
Start and Finish:
Start and Finish are a 400m walk from the car park at the east side of the wood.
Unless you need to collect a hired SI dibber you can go straight to the Start where you will collect your map.
Download and dibber collection will be in the Alba Trees car park close to the Finish.
It is essential that you report to Download before leaving the wood even if you have not completed your course.
Starts will be from 1:30pm to 3:00pm.
Courses Close:
The courses will close at 4:00pm so it is essential that you report to the Finish by then, even if you have not completed your course.
Course Information
Map
The map is printed at 1:5000 with 5m contours.
Timing
SportIdent (SI) electronic timing will be used – we will have SIs for hire free of charge but there is a £30 charge if lost. Units, apart from start and finish, will be set for contactless punching.
Courses
There will be White, Yellow, Orange, Intermediate Map Memory and Advanced Map Memory courses.
| Course | Length / Ascent | Description |
| --- | --- | --- |
| White | 2.2km / | For competitive 9-10 year olds and 11-12 year old beginners. Follows paths with a control at each choice point. |
| Yellow | 2.8km / | For competitive 11-12 year olds and 13-14 year old beginners. Follows line features with controls after choice points. |
| Orange | 2.9km / | For competitive 13-14 year olds and beginner adults. Controls near paths or line features. |
| Intermediate Map Memory | 2.9km / | A course of Yellow to Orange standard where you only get to see the map for each leg at the control points. |
| Advanced Map Memory | 4.3km / | Suitable for experienced orienteers. A more challenging course with navigation requiring memorising two legs at a time. |
More details about the colour coding is available on the Scottish Orienteering website.
Organiser:
Michael Atkinson
Planner:
Joel Atkinson
Entry Charges
Entry is cheaper if you are a current 2023 member of a club affiliated to Scottish or British Orienteering.
Please ensure that your membership has been renewed for 2023.
British/Scottish Orienteering member* (Pre-entry)
Non‑member
& late entry
Seniors
£4
£6
Juniors
£1.50
£2.50
Pair of Seniors
£5
£7
Pair of Juniors (no accompanying adults)
£2
£3
Junior and Parent
£2.50
£3.50
Family Groups (one or more children accompanied by one or more adults)
£6
£8
*Members of any orienteering club will receive a discount for advance entry only (usually by the Monday before the event so we can order maps).
Safety and Risk
A comprehensive risk assessment (RA) has been carried out by the organisers, but participants take part at their own risk and are responsible for their own safety during the event.
The RA will be available for inspection at Registration.
Medical Conditions:
If you, or anyone in your group (including juniors), have a medical condition that first-aiders or health professionals should know about in the event of accident or illness during the course of the event please print off the Medical Form, complete it fully and bring it along to the event. You should complete a separate copy for each individual who has a medical condition. Please leave the completed Medical Form at Event Registration. If it is not in a labelled sealed envelope, it will be put in one and will be opened only in an emergency. It will be shredded immediately after the event if you do not claim it back.
Privacy
When entering our events your name will appear in the results section of this website and may appear in newspaper reports.
We may also take photographs at the event for publicity purposes – please let us know if you do not want us to use your photograph in this way.
Read our privacy policy.