Barns Ness near Dunbar
Saturday 24th June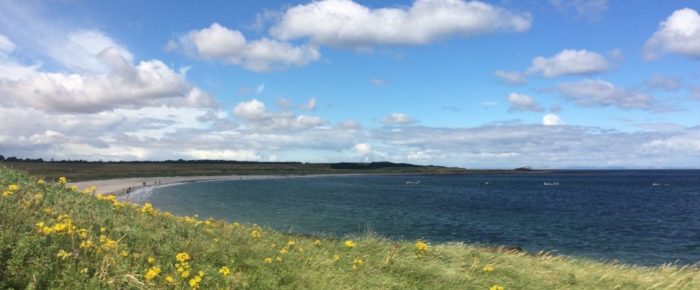 Results:
Planner's Comments:
It was a very windy day so only the hardiest souls came out for orienteering at Barns Ness on Saturday.  The East Linton and Gifford branch of the Cubs seemed to enjoy the White course and a handful of them took on the Yellow course too.  The course area might be described as fast since there are lots of paths and the area is open so visibility is excellent.  However some cubs were rescued having promised Jonathan (co-planner) a sausage from their BBQ.  Most seemed to get round with few hitches.   The ever-changing shape of the gorse is always a worry to any planner.  The planning team discussed using the small kites next year so they are slightly harder to find.  Next stop for the Si units is Ballater for the 6 days.  I hope to see some of you there in August.  Andrea
Event Details:
Type of event: Local event in the East of Scotland Orienteering Association (ESOA)  series
Type of terrain: Open land, dunes
General Information
Other Users: The beach and shore areas are very well used by the general public including dog walkers and families. Please respect their right to be there at the same time as you are orienteering. Please observe any out of bounds areas.
Dogs: Area is well used by dog walkers so dogs are welcome. However see the note below about 'Pirri pirri burr'.
Location
Nearest town: Dunbar
Grid Ref: NT710773
Postcode: EH42 1QP


Directions
Car park accessed by minor road which leaves A1087 at NT669770. The A1087 runs from Dunbar town south through Broxburn past the cement works to the A1. There are roadworks on the A1087 leaving Dunbar so access is easier from the A1 end of the A1087.
Drive past the campsite on the left and on down to the barrier. Turn left here and park on the grass.
There is a £2 charge for parking.
Registration & Start Times
Registration
: This will be from
1:45pm
to 3.00pm at the car park. Pre-entry is not available, all entries will be taken on the day. Please try to come and start early if you think you might take a long time over your course. Controls will be brought in from
4pm
promptly. The
registration form
can be downloaded and completed before you arrive.
Start and Finish will be close to the registration. Start times will be from 2.00pm to 3.00pm.
Courses Close
at 4pm
so it is essential that you report to the Finish by
4pm,
even if you have not completed your course.
Course Information
There will be White (1.6 km very easy), Yellow (2.1 km easy), Orange (2.7 km moderate) and Green(5.5 km hard) courses.
SportIdent (SI) electronic timing will be used. If you have your own SI please bring it with you. We will have SIs for hire free of charge but there is a £30 charge if lost.
Entry Charges
Seniors (born 1995 or earlier)
British Orienteering members – £3
Non-members – £5
Juniors (born 1996 or later)
British Orienteering members – £1.50
Non-members – £2.50
Groups (Adults + children)
Each additional adult in a group: add £1
Each additional junior in a group: add 50p
Andrea Davison
Safety and Risk
A comprehensive risk assessment will have been carried out by the organiser, but participants take part at their own risk and are responsible for their own safety during the event.
Pirri Pirri Burr
This non-native, invasive plant has been found at Barns Ness. Rangers ask that you adhere to the notices on site by keeping your dog on a lead and sticking to the main paths within the old caravan site (near the lighthouse), to prevent any missed burrs from sticking to your clothing or dog's fur and spreading the plant.
Privacy: when entering our events your name may appear in the results section of this website or in newspaper reports.
Read our privacy policy