Vogrie
Saturday 29th April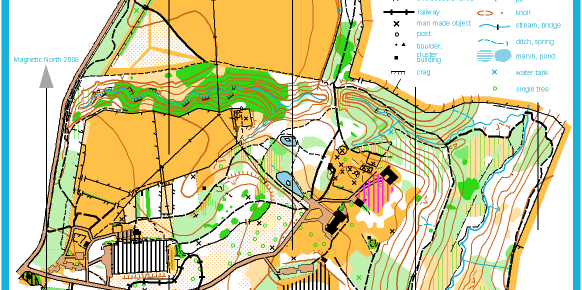 Results:
Routegadget for drawing your route and looking at others
Report:
Well, that was a bit of a surprise, and a bit of a different background to our usual events. Fortunately a rumour reached us last night that a rock/music/dance festival was taking place at Vogrie, and it seems that the Midlothian Events people who booked this in, did not tell the Park Rangers nor the Information Point about it!  We arrived plenty early and scouted out the security fencing even before parkrun and found that the positions of the final controls and finish were now tucked inside the security fencing. Immediately parkrun was over, the maps and courses were studied and alternatives worked out.  Finish was moved to the west of the car park so that the White course could be taken safely round to the north. Orange and Green course competitors were left to work out the route choice of heading north or south of the newly marked out-of-bounds but changing the Yellow course was the hardest as the more obvious route would have had them running through the carparking which we deemed was not safe, so we had to have them doubling back on themselves with controls 11 and 12 being the same as 8 and 7, which took them back to the west and safely to the run-in to Finish.  Most people seemed to have coped with the changes and the hand drawn alterations to the maps and were very understanding of the problems. There were rather mixed feelings about the musical (?) background which did rather drown out the woodpecker we had heard earlier as well as the other birdsongs we had been expecting to hear.
Thank you
Thank you to all the wonderful volunteers who made today's event succeed. Orienteering is run by orienteers for orienteers and would not happen if we did not all play our part in putting events on.
As well as the ELO helpers, special thanks to Margaret and Les Dalgleish (ESOC) who spent their post-parkrun coffee time drawing on the changes to the Orange and Green course maps. Michael Atkinson drew the changes onto the White Course maps.
Neil McMillan (planner), Michael Atkinson and Peter, Peter Brownsort, Andrea Davidson (ESOC), Julian Hall, Tim Harding, Martyn Pegg and Jonah, Trina Rogerson, Ros Shepherd and  Robin and Sheila Strain all helped.
---
ELO's next local event is at Vogrie Country Park on Saturday 29th April.
Neil McMillan is our Planner for the usual range of local event courses:-
White: very easy
Yellow: easy
Orange: medium
Green: hard
Event Details:
Type of event: Local event in the East of Scotland Orienteering Association (ESOA) series
Type of terrain: Parkland, Woodland
General Information
Terrain: A mixture of parkland and woodland with some muddy sections for White, Yellow and Orange courses. The Orange and Green course could include some wading across a burn, but this can (should) be avoided by using the bridges.
Other Users: The woods are very well used by the general public including dog walkers and families. Please respect their right to be there at the same time as you are orienteering. Please observe all out of bounds areas, particularly the unfenced.
Dogs: Area is well used by dog walkers so dogs are welcome.
Location
Nearest town:
Gorebridge
Grid Ref:
NT376632
Postcode:
EH23 4NU
Latitude:
55.857960
Longitude:
-2.998408
StreetMap
Directions
Vogrie is on the B6372 which runs form the A7  at Gorebridge to the A68 North of Pathhead.
A limited service travels to the Edgehead and Dewarton crossroads, from where the park can be accessed on foot.
There is usually a £1 parking charge. Purchase a token and use it to open the barrier.
Registration & Start Times
Registration
: This will be from
1:45pm
to 3.00pm at the car park. Pre-entry is not available, all entries will be taken on the day. There will be 'fast track' registration for dibber owners. Please try to come and start early if you think you might take a long time over your course. Controls will be brought in from
4pm
promptly. The
registration form
can be downloaded and completed before you arrive.
Toilets and Refreshments. There are toliets near the car park. We expect that the café in Vogrie House will be open.
Start and Finish will be close to the registration. Start times will be from 2.00pm to 3.00pm.
Courses Close
at 4pm
so it is essential that you report to the Finish by
4pm,
even if you have not completed your course.
Course Information
There will be White (very easy), Yellow (easy) and Orange (moderate) and Green (hard) courses. The map is printed at 1:6000.
SportIdent (SI) electronic timing will be used. We will have SIs for hire free of charge but there is a £30 charge if lost.
Entry Charges
Seniors (born 1995 or earlier)
British Orienteering members – £3
Non-members – £5
Juniors (born 1996 or later)
British Orienteering members – £1.50
Non-members – £2.50
Groups (Adults + children)
Each additional adult in a group: add £1
Each additional junior in a group: add 50p
Contacts / Officials
Safety and Risk
A comprehensive risk assessment will have been carried out by the organiser, but participants take part at their own risk and are responsible for their own safety during the event. All courses include sections on pavements at the side of minor roads. Because of road crossings, the Green course is not suitable for unaccompanied juniors under 16 years old. British Orienteering rules do not allow any variation of the prohibition.
Privacy: when entering our events your name may appear in the results section of this website or in newspaper reports.
Read our privacy policy