Festive Frolic: Levenhall Links
Tuesday 28 December 2021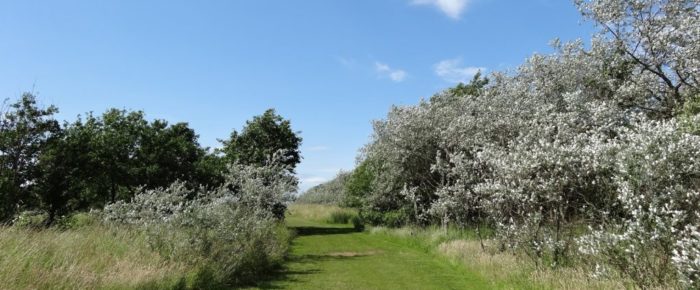 For longer than most of us can remember ELO have put on a fun orienteering event between Christmas and New Year. As well as finding the controls there has been a puzzle to add to the challenge. A mass start, a social gathering and a lively prize giving have made up for a great way to work off some of the Christmas excesses.
This year's Festive Frolic at Levenhall on Tuesday 28th December will be fun and challenging.
Orienteers of all abilities are welcome to join us on the day when we will have something to suit everyone.
Planner's Report
After Storm Arwen pushed East Champs back two weeks, and threw trees around Yellowcraig, then finding that the security fencing at Levenhall had spread since my last visit, this was very much a dash to the deadline – firstly to get the maps prepared and printed before the Christmas break. Thank you, all, for coming along and for the many thanks and nice comments that have been received.
While it was December gloomy, we were lucky that the early dampness dried up. Calculating bonus points would have been much more difficult in the rain. Well done to all as you competed in the spirit of a fun event as intended.
Nevertheless praise should go to –
1st overall – Sacha Chepelin
4th/ 2nd Man – Michael Atkinson
5th/ 3rd Man – Jonathan Ellis
1st Woman/ 2nd overall – Rona Lindsay
2nd Woman/ 3rd overall – Kirsten Strain
3rd Woman/ 1st Junior/6th overall – Emily Atkinson
Joel Atkinson still managed to be 2nd Junior despite losing about 10 minutes in running back to registration to replace a dud (hired) SIAC part way through.
The full 40 controls were visited by Sacha, Kirsten, Emily, Terry (STAG) and Phil M; and Jonathan and Duncan E only missed one. Sacha actually visited 64 controls altogether.
A HUGE thank you to Robin who did amazing things with SI Timing to get the letters to print out, as well as preparing the map for printing and a load of other things; and to Kirsten for getting the bonus points added in, as well as much help with setting up and taking everything down.
Thank you to Ross, Jamie, Evgueni, Jeff, Duncan/Freya and all the Atkinson family for getting the controls out and/or collected in. Forty controls would have finished me off if I had had to put them out myself!
Appreciation also to David and Hanne who went in search of, and found, the control stake "K" at the play park which had been thrown into nearby undergrowth. The actual SI unit had been grippled and was still attached to the fence but at ground level and I know some people lost time before spotting it there.
Results
General Information
Type of event:
Local event in the East of Scotland Orienteering Association (ESOA) series
Terrain:
Levenhall Links is not a technically difficult area, it is a good one for a bit of easy running around
Please observe any out of bounds areas.
Other Users
The area is very well used by the general public including dog walkers and families. Please respect their right to be there at the same time as you are orienteering.
Dogs
The area is well used by dog walkers so dogs are welcome to come with orienteers.
Toilets:
Toilets are available at the Brunton Theatre.
Accessibility:
TBC.
Location
Nearest Town: Musselburgh
Grid Ref: NT363733
Nearest Postcode: EH21 7SY
Directions
Head past Musselburgh Racecourse towards Prestonpans and use the public car park.
Public Transport
Lothian buses numbers 26 and 44 all pass close to Musselburgh Racecourse and the area we are visiting. The number 30 and the train station at Wallyford are a short walk/run away as well.
Registration & Start Times
Registration
This will be online – look for the ELO flag and tent to pick up hire dibbers.
Start and Finish:
There will be a mass start at 11:00
Courses Close:
Course closure time will be 12:20
Entry Charges
| | |
| --- | --- |
| Senior (per person): | £7.00 |
| Junior/Student (per person): | £3.00 |
| Family Group (per team): | £5.00 |
A family group should include at least one child and one adult.
Course Information
Map
The map is printed at 1:7500 with 2.5m contours.
Timing
SportIdent (SI) electronic timing will be used – we will have SIcards for hire free of charge but there is a £30 charge if lost. Units, apart from start and finish, will be set for contactless punching and SIACs to take advantage of this can be hired for £2.50.
Course
60 minute Score course with control sites suitable for all abilities.
Safety and Risk
A comprehensive risk assessment (RA) has been carried out by the organisers, but participants take part at their own risk and are responsible for their own safety during the event.
The RA will be available for inspection at Registration.
Medical Conditions:
If you, or anyone in your group (including juniors), have a medical condition that first-aiders or health professionals should know about in the event of accident or illness during the course of the event please print off the Medical Form, complete it fully and bring it along to the event. You should complete a separate copy for each individual who has a medical condition. Please leave the completed Medical Form at Event Registration. If it is not in a labelled sealed envelope, it will be put in one and will be opened only in an emergency. It will be shredded immediately after the event if you do not claim it back.
Privacy
When entering our events your name will appear in the results section of this website and may appear in newspaper reports.
We may also take photographs at the event for publicity purposes – please let us know if you do not want us to use your photograph in this way.
Read our privacy policy.