Gosford Estate
Saturday 26 March 2022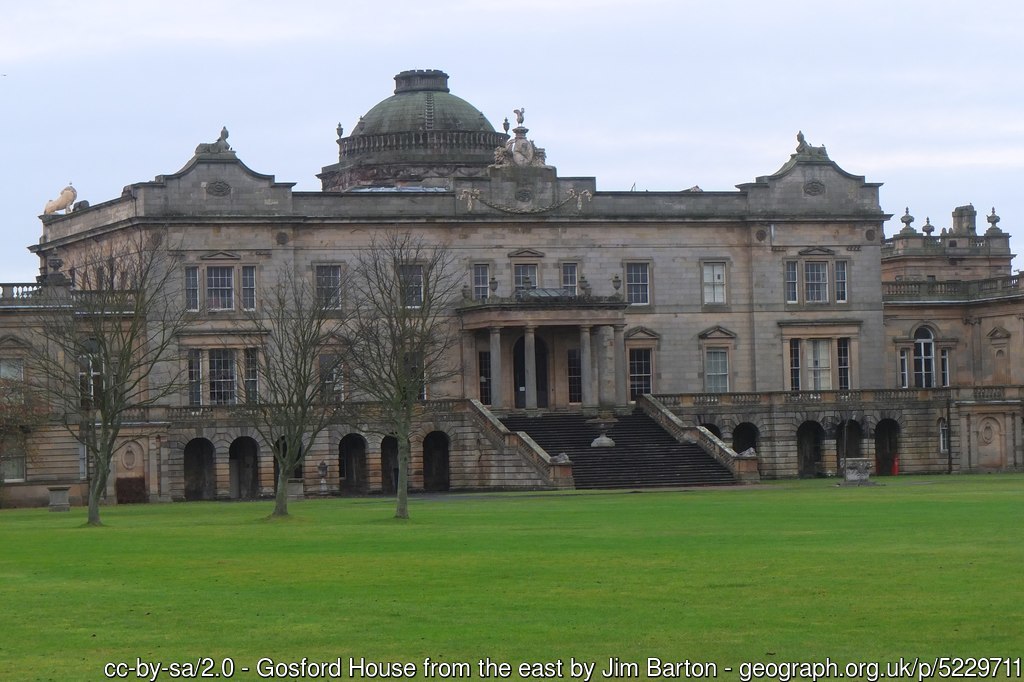 Gosford is a privately-owned estate stretching between the East Lothian villages of Longniddry and Aberlady. The area contains 18th-Century Gosford House and its park in the centre, sections of farmland, and surrounding deciduous woodland. Although the event will stay away from the House itself, the parkland contains many interesting features such as ornamental ponds, ha-has, a mausoleum, a grotto, and an ex-POW camp.
Orienteers of all abilities are welcome to join us on the day when we will have a range of courses to suit everyone including beginners.
Organiser's Report
It is much easier to plan and run an event when you know that the courses are going to be enjoyed and it was clear from the outset that this was likely to be the case. The earlier time of year meant that the daffodils would be out and the nettles wouldn't be a problem. This resulted in lots of smiles as people returned to download after their courses. 
My thanks go to all be those who helped with parking, issuing dibbers, welcoming folks and providing a smooth start and some friendly advice on navigation. 
It was encouraging to hear positive feedback about all four courses and we look forward to seeing you in April when we will be revealing our brand new map of Balgone Estate south of North Berwick which a surprising number of folks from East Lothian have never visited before!
Planner's Report
The club was pleased to provide such splendid weather for you to enjoy this afternoon at Gosford – all planned of course – and the woods and parkland were in equally good shape. I hope the courses matched up to this setting to some degree. Certainly, your feedback at the finish suggested most people enjoyed them.
Gosford is a great area and it has been a privilege to spend time there planning this event, seeing the woods, the lakes, the wildlife in different conditions through the winter, culminating in today's superb spring atmosphere. My thanks are due to the Estate, particularly the Ranger, Stewart Lyle, for his help, and to Michael Atkinson for supporting me with the planning – and for all the rest of the event organisation. Also, thanks to the big team of control collectors – Hanne, Dave, Godfrey, Jamie, Duncan and Thomas – for making it quick and easy clearing up.
Results
General Information
Type of event:
Local event in the East of Scotland Orienteering Association (ESOA) series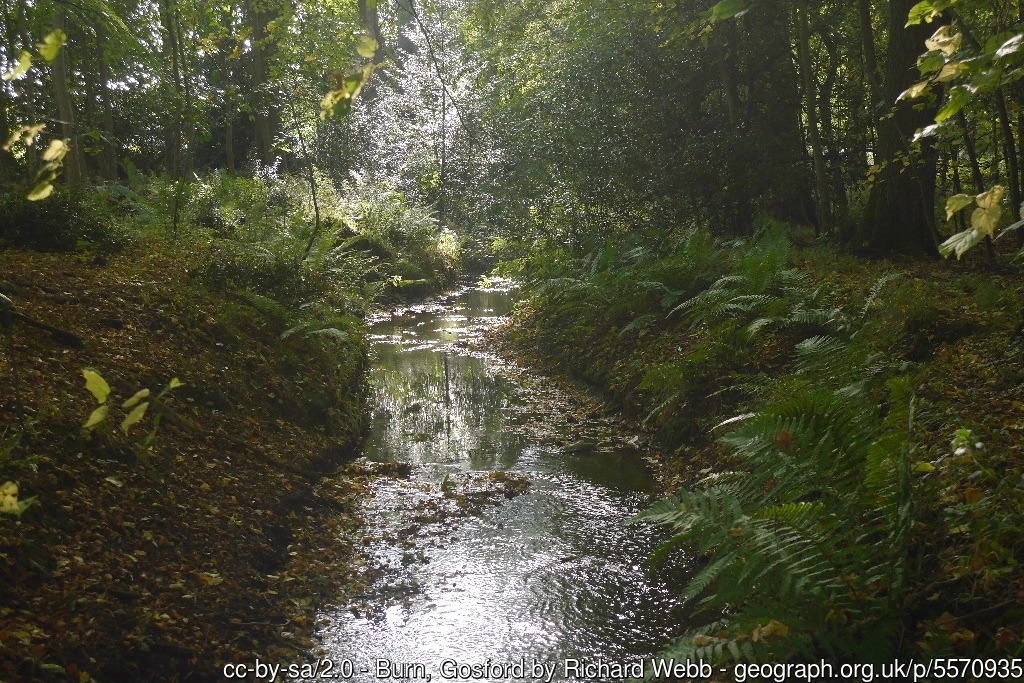 Terrain:
This event will use the eastern half of our map, which boasts only a few contour features, but has a complex network of paths and ditches in the northern part, and more traditional mixed woodland elsewhere.
Please observe any out of bounds areas which include the areas around the main house, other private dwellings on the estate and areas used for raising game-birds.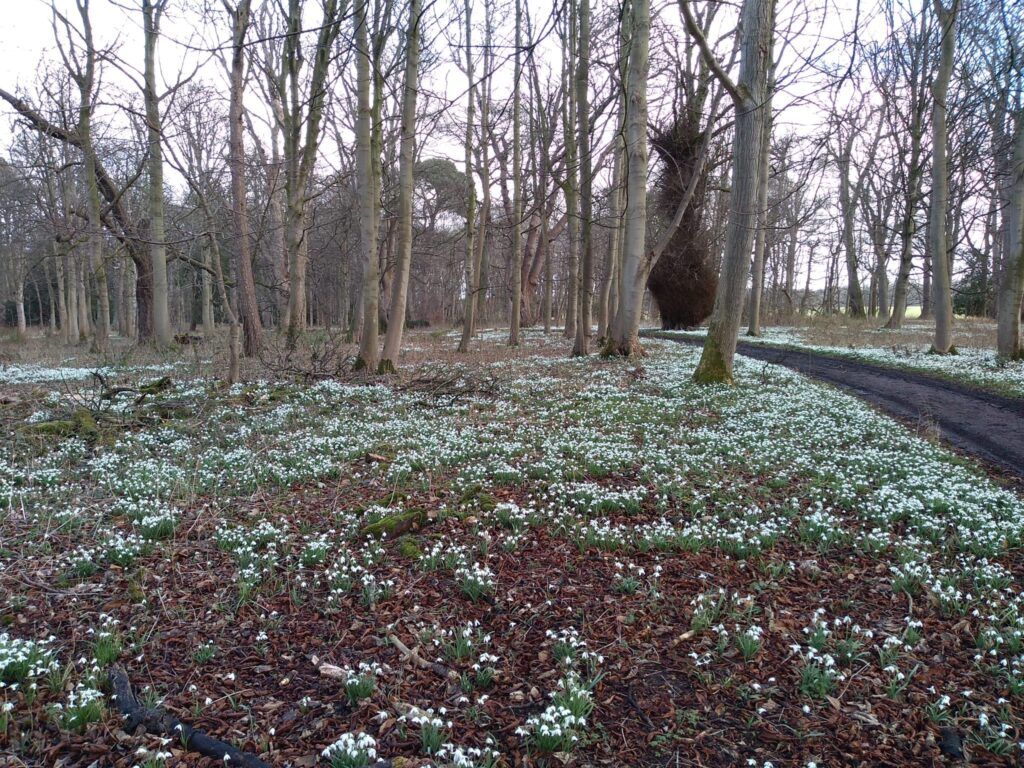 Other Users
The area is very well used by the general public. Please respect their right to be there at the same time as you are orienteering.
Dogs
Dogs must be on leads and are not welcome in the wooded area to the south of Hungary House due to ground nesting birds.
Be aware that the usual East Lothian wildlife (deer and hares) are common.
See also the note about blue-green "algae", which can be toxic to dogs.
Toilets:
Toilets are available at Longniddry Bents Car Park.
Accessibility:
White and yellow courses are accessible with a sturdy buggy but other courses venture off the paths.
Location
Nearest Town: Aberlady
Grid Ref: NT 453 782
Nearest Postcode: EH32 0PX
Directions
We are parking near the location below, with entry through the nearby gate from the A198, 1km south of the closed main gate at North Lodge.

Parking within the estate along the road to Assembly is free. In the unlikely event of that filling up then late-comers may need to park across the A198 in one of the Bents carparks (£2.50 charge) and walk back to the state entrance.
Public Transport
It is also possible to get to the event by bus (Edinburgh-North Berwick service from East Coast Buses; use the "Pleasance" stop in Aberlady, then close your eyes when walking from the Bothy to assembly!) or by train to Longniddry (enter by the West Lodge gate for a pleasant 3km walk through the woods in the southern part of the Estate).
Nearest Defibrillator:
4 Tranter Road, Aberlady, EH32 0UE
Registration & Start Times
Registration
This will be online (and potentially for newcomers at the car park) – look for the ELO flag and tent!
Please plan to start early if you think you might take a long time to complete your course.
Start and Finish:
Start times will be from 1:30pm to 3:00pm.
The start and finish will be close to registration.
Courses Close:
The courses will close at 4:00pm, so if you have not completed your course by then, you should stop and return to assembly.
You must report to the Download point, whether you complete the course or not, so that we know you are not lost or injured in the woods!
Course Information
Map
The map is printed at 1:7500 with 2.5m contours.
Timing
SportIdent (SI) electronic timing will be used – we will have SIs for hire free of charge but there is a £30 charge if lost. Units, apart from start and finish, will be set for contactless punching.
Courses
There will be White, Yellow, Orange and Light Green courses.
| Course | Length / Ascent | Description |
| --- | --- | --- |
| White | 2.0km / 5m | Very Easy |
| Yellow | 2.9km / 10m | Easy |
| Orange | 3.4km / 10m | Moderate |
| Light Green | 4.9km / 20m | Difficult |
More details about the colour coding is available on the Scottish Orienteering website.
Organiser:
Michael Atkinson
Planner:
Pete Brownsort
Entry Charges
Entry is cheaper if you are a current 2022 member of a club affiliated to Scottish or British Orienteering.
Please ensure that your membership has been renewed for 2022.
| | British/Scottish Orienteering member* (Pre-entry) | Non‑member |
| --- | --- | --- |
| Seniors | £4 | £6 |
| Juniors | £1.50 | £2.50 |
| Parent and Child (one parent with one child) | £2.50 | £3.50 |
| Larger Family Groups (one or more children accompanied by one or more adults) | £3 | £5 |
| Pair of Seniors | £5 | £7 |
| Pair of Juniors (no accompanying adults) | £2 | £3 |
*Members of any orienteering club will receive a discount for pre-entry only.
**Note that although non-members are now permitted to take part, Covid regulations still limit the support we can give beginners.
Safety and Risk
A comprehensive risk assessment has been carried out by the organisers, but participants take part at their own risk and are responsible for their own safety during the event.
Ditches: although they are all technically crossable as mapped, you probably won't want to choose routes that cross the ditches shown as continuous lines, as they are quite wide, with steep sides, and may be a bit deep after rain. The ones shown as broken lines are in general fairly easily crossed. In any case, courses are planned so that you shouldn't need to cross many, or perhaps any, of them except via bridges.

Ha-has: these are retaining walls which are up to 2m in height with a ditch below them. They are often hidden from view when approached from the top and so most courses approach them from below and are not optimal route choices but you MUST NOT climb or attempt to cross any ha-has. They are mapped using the symbol combinations shown and crossing them is strictly forbidden as it would be a dangerous route choice because they are unstable and could jeopardise permission to hold future events. The most dangerous will be taped with black and yellow hazard tape to further discourage you!
Out of Bounds: The main house, private residences and areas used for raising game-birds are all marked as Out of Bounds on the maps. Courses which come near these areas have lines bent to guide you past them appropriately.
Vegetation:

The rhododendrons have grown a little since some areas were first mapped.
Not every holly bush is on the map!
Medical Conditions:
If you, or anyone in your group (including juniors), have a medical condition that first-aiders or health professionals should know about in the event of accident or illness during the course of the event please print off the Medical Form, complete it fully and bring it along to the event. You should complete a separate copy for each individual who has a medical condition. Please leave the completed Medical Form at Event Registration. If it is not in a labelled sealed envelope, it will be put in one and will be opened only in an emergency. It will be shredded immediately after the event if you do not claim it back.
Privacy
When entering our events your name will appear in the results section of this website and may appear in newspaper reports.
We may also take photographs at the event for publicity purposes – please let us know if you do not want us to use your photograph in this way.
Read our privacy policy.