Binning Wood
Saturday 30th March 2019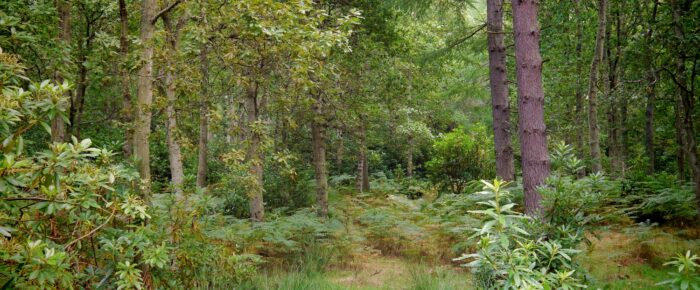 Results
Event Report
Many thanks to everyone who made it out to Binning Wood on Saturday afternoon – the rain in the late morning didn't deter many people and rightly so as the clouds dispersed at lunchtime and the afternoon was spent in the sunshine.  It was encouraging to see a lots of new folks out, particularly families discovering that orienteering is a great sport for everyone in the family.  We hope to see you again at our next event.
The clearings in Binning are notoriously tricky to negotiate cleanly and definitely reward those who routinely check which path to take using their compass. Hopefully most of you managed to stay out of the worst of the rhododendrons and brashings (it certainly appeared that way from the feedback afterwards) and enjoyed the nice parts of the woods and there are plenty of those.
It's always nice to see results where there are no mis-punches but we do agree that there was something not-quite-right with the features and distances around control 110 which was on the orange and the light green courses and held some of you up.
The aim of the light green course was to give plenty of route choice so you may be interested to see some of the choices which were available:
Thanks also to all the volunteers – without you, we wouldn't be able to hold fantastic events like this each month!
Pre-event Information
Binning Wood was originally planted in the 1700s and was almost completely felled during the second world war to build Mosquito fighter-bombers. It was replanted with conifers and beech and has a complex network of rides, paths and ditches which can be disorientating to the unwary.  Although much of the site had been overrun with rhododendron, work is ongoing to clear some of the site which has dramatically improved the runnability.  In many areas visibility has improved and hidden ditches have reappeared, although the brashings will slow you down.
The map was updated for the Scottish Relay Championships in 2017 and shows the ride network radiating out from three large clearings along with an area at north of the map which is a green burial site – the Binning Memorial Wood. This area is marked on all maps as out of bounds to orienteers.
General Information
Type of event:
Local event in the East of Scotland Orienteering Association (ESOA) series.
Terrain:
Binning wood is a great wood for orienteering because of its extensive network of paths and rides and woodland blocks of varying types.
It is a flat woodland which is characterised by three large circular clearings which all but the white course visit at least once. These clearings have up to 13 paths leading out of them and will challenge your navigation…
Binning Wood has suffered in the past from being overgrown with rhododendrons but there has been much clearing in recent years leading to areas which are very open and runnable:
Other Users:
The area is well used by the general public. Please respect their right to be there at the same time as you are orienteering. You must not enter any out of bounds areas.
Dogs:
The area is used by dog walkers so dogs are welcome.
Location
Nearest town/village: East Linton
Postcode: EH40 3DU
Grid Ref: NT 593 801
Directions:
Leave the A1 at either Haddington (if coming from the west; take the second Haddington junction, known as "Abbotsview" and signed "Haddington/East Linton") or Dunbar (if coming from the south) and then follow the A199 ("the old A1") to its junction with the A198 signposted North Berwick. Follow the A198 for 2 straight kilometres to Tyninghame village. Turn left onto the B1407 and take the next right after 1 km onto the minor road signposted Newbyth and Lawhead. Go north for 1.5 km to the south-west corner of Binning Wood.
Parking:
Parking for cars will be in this car park and the two car parks further north as well as along the side of this minor road.  There is no charge for parking.
Registration & Start Times
Registration:
Registration is from 1:30pm to 3:00pm next to the parking area.
Pre-entry is not available; all entries will be taken on the day.
The registration form can be downloaded and completed before you arrive which will speed things up.
Fast track registration is available if you meet both these requirements…
are a member of a Scottish orienteering club
have your own dibber registered with SI.
Start and Finish:
The Start is about 100 metres from the car-parking and Registration
Start times are from 1:30pm to 3:00pm
Finish is adjacent to Registration / Download
Courses close at 4:30pm.
Courses Close:
Please report to the Download by 4:30pm, even if you have not completed your course.
Controls will be brought in from 4:30pm.
Facilities:
Coffee and cake will be available at Assembly in return for charity donations.
There are no public toilets in the immediate area.  The nearest public toilets are in East Linton.
Lunches (and therefore also use of toilets) are available at Smeaton Nursery (East Linton) or Tyninghame Smithy Country Store (Tyninghame).
Course Information
Map:
The map is printed at 1:7500 with 2.5m contours.
Timing:
SportIdent (SI) electronic timing will be used – we will have SIs for hire free of charge but there is a £30 charge if lost.
Courses:
There will be White, Yellow, Orange and Light Green courses.
Provisional course lengths are as follows…
Course
Length
Difficulty
White
1.8km
Very easy navigation
Controls are all on paths
Yellow
2.0km
Easy navigation
Controls all on or visible from paths
Orange
3.5km
Medium difficulty navigation
Controls are generally quite close to paths
Light Green
4.4km
Hard Navigation
Controls are hard to find and to reach
More details about the colour coding is available on the Scottish Orienteering website.
Accessibility:
Most of the White course follows good paths but they are uneven and have muddy sections which may be tricky for buggies and pushchairs.
The Yellow course covers a lot of rough ground and the Orange and Light Green courses both venture off the paths so are not suitable for buggies or pushchairs.
Planner:
Michael Atkinson
Entry Charges
Entry is cheaper if you are a current 2019 member of a club affiliated to Scottish or British Orienteering.
Please make sure that your membership has been renewed for 2019.
British/Scottish
Orienteering member
Non-member
Seniors
£4
£6
Juniors
£1.50
£2.50
Parent and Child
(one parent with one child)
£2.50
£3.50
Larger Family Groups
(one or more children accompanied by one or more adults)
£3
£5
Pair of Seniors
£5
£7
Pair of Juniors
(no accompanying adults)
£2
£3
Safety and Risk
A comprehensive risk assessment has been carried out by the organisers, but participants take part at their own risk and are responsible for their own safety during the event
There are a number of ditches which are deep but at the time of planning had little water in them.  They are crossed by a wide variety of wooden bridges which are slippery in damp conditions and potentially unstable so care is advised:
There are areas which have been cleared of rhododendrons and it is not always clear how easy they are to cross when approaching them in the woods.
Alhough the two examples above look almost identical, in practice it is very difficult to tell which is which when looking from the outside . There are also areas, more recently felled, which have even better visibility than those above which are also mapped as Vegetation: fight. The areas marked as Vegetation: fight have often been done so quite conservatively to avoid the chances of getting unlucky because routes through these areas vary so widely.  In general, expect to walk rather than run slowly through areas shown with a thick undergrowth screen and you are advised to avoid areas mapped as Vegetation: fight even if it looks runnable when approaching the woodland block.
As with many woods in Scotland, there are ticks present in Binning Wood so you are advised to check carefully and promptly remove any ticks you may find to reduce the risk of infections.
Medical Conditions:
If you, or anyone in your group (including juniors), have a medical condition that first-aiders or health professionals should know about in the event of accident or illness during the course of the event please print off the Medical Form, complete it fully and bring it along to the event.   You should complete a separate copy for each individual who has a medical condition.  Please leave the completed Medical Form at Event Registration.  If it is not in a labelled sealed envelope, it will be put in one and will be opened only in an emergency.  It will be shredded immediately after the event if you do not claim it back.
Veteran Home International
It has just been confirmed that Binning Wood will be used on 21st September 2019 for the Veteran Home International (VHI) Relay competition.  Although a formal embargo is not in place yet, anyone who is hoping to be selected for the 2019 VHIs is advised to avoid entering this local event.
Privacy
When entering our events your name will appear in the results section of this website and may appear in newspaper reports.
We may also take photographs at the event for publicity purposes – please let us know if you do not want us to use your photograph in this way.
Read our privacy policy.