John Muir Country Park, near Dunbar
Saturday 23 February 2019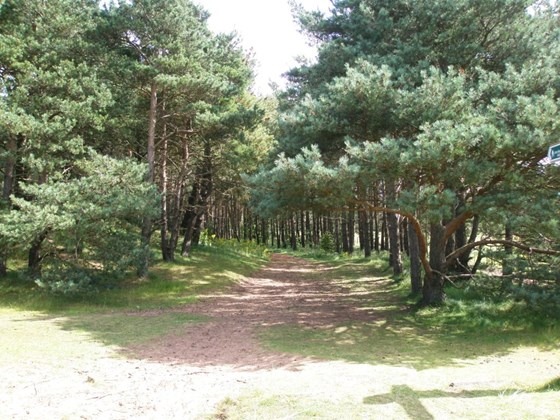 Our February event was in John Muir Country Park (JMCP) near Dunbar. Despite rival events on Deeside we had another strong attendance with many families as well as a sprinkling of more experienced orienteers.  The club tent didn't (quite) blow away and everyone came back safe and sound and looking cheerful.
Many thanks to everyone who attended and to all the ELO helpers especially …
Neil who made the timing run smoothly and Robin who set it up in advance
Matt, Ian and Trina who collected controls as well as other roles.
Results
JMCP is a wonderful area for orienteering. The woods have an excellent path network and the fringe of dunes covered by spiky marram grass provides a technical challenge.
John Muir Country Park was used earlier this month for the Scottish Night Orienteering Championships but this was the first ELO Saturday event here for nearly three years.
Pre-event Information
There will be courses for orienteers of all ages from White, Yellow, Orange and Light Green.
Everyone is welcome to join us from 1:30pm for registration, with starts from 1:45pm until 3:00pm.
General Information
Type of event:
Local event in the East of Scotland Orienteering Association (ESOA) series.
Terrain:
Mixed woodland – predominantly coniferous – with a clear and extensive network of rides and paths
Open areas within the wood
Low dunes along the northern edge of the woods.
None of the courses visit the extensive dune area known as Spike Island.
Other Users:
The area is well used by the general public. Please respect their right to be there at the same time as you are orienteering. You must not enter any out of bounds areas.
Dogs:
The area is used by dog walkers so dogs are welcome.
Location
Nearest town: Dunbar
Grid Ref: NT 652 787
Postcode: EH42 1XF
Directions and Parking:
The car park is accessed by a minor road signposted from the A1087 west of Dunbar.
There is a £2 charge for parking.
Registration & Start Times
Registration:
Registration is from 1:30 pm to 3:00 pm in the parking field.
Pre-entry is not available; all entries will be taken on the day.
The registration form can be downloaded and completed before you arrive which will speed things up.
Fast track registration is available if you meet both these requirements…
you are a current member of a Scottish orienteering club
you have your own dibber registered with SI.
Facilities:
There are public toilets near to the car park.
We will not be offering catering at event assembly.
There is a cafe at the nearby East Links Family Park.
Start and Finish:
The Start is about 300 metres from the car-parking and Registration
Start times are from 1:45 pm to 3:15 pm
Finish is 20 metres from Registration / Download
Courses close at 4:30 pm.
Courses Close:
Please report to the Download by 4:30 pm, even if you have not completed your course.
Controls will be brought in from 4:30 pm.
Course Information
Map:
The map is printed at 1:7500 with 2.5m contours.
Timing:
SportIdent (SI) electronic timing will be used – we will have SIs for hire free of charge but there is a £30 charge if lost.
Courses:
There will be White, Yellow, Orange and Light Green courses.
Provisional course lengths are not finalised yet but will be approximately as follows…
Course
Length
Difficulty
White
1.7 km
Very easy navigation
Controls are all on paths
Yellow
2.6 km
Easy navigation
Controls all on or visible from paths
Orange
3.6 km
Medium difficulty navigation
Controls are generally quite close to paths
Light Green
4.6 km
Hard Navigation
Controls are hard to find and to reach
More details about the colour coding is available on the Scottish Orienteering website.
Accessibility:
Most of the White and Yellow courses follow good paths but they are occasionally uneven and all courses include 30 metres on a narrow path which is tricky for buggies and pushchairs.
Orange and Light Green courses both venture off the paths so are not suitable for buggies or pushchairs
Planner:
Pete Younger
Entry Charges
Entry is cheaper if you are a current 2019 member of a club affiliated to Scottish or British Orienteering.
Please make sure that your membership has been renewed for 2019.
British/Scottish
Orienteering member
Non-member
Seniors
£4
£6
Juniors
£1.50
£2.50
Parent and Child
(one parent with one child)
£2.50
£3.50
Larger Family Groups
(one or more children accompanied by one or more adults)
£3
£5
Pair of Seniors
£5
£7
Pair of Juniors
(no accompanying adults)
£2
£3
Safety and Risk
A comprehensive risk assessment has been carried out by the organisers, but participants take part at their own risk and are responsible for their own safety during the event
All courses pass close to a pond on the edge of the woods.
Medical Conditions:
If you, or anyone in your group (including juniors), have a medical condition that first-aiders or health professionals should know about in the event of accident or illness during the course of the event please print off the Medical Form, complete it fully and bring it along to the event.   You should complete a separate copy for each individual who has a medical condition.  Please leave the completed Medical Form at Event Registration.  If it is not in a labelled sealed envelope, it will be put in one and will be opened only in an emergency.  It will be shredded immediately after the event if you do not claim it back.
Privacy
When entering our events your name will appear in the results section of this website and may appear in newspaper reports.
We may also take photographs at the event for publicity purposes – please let us know if you do not want us to use your photograph in this way.
Read our privacy policy.